Project Runway: Threads – Episode 2, "Fashion Capitals"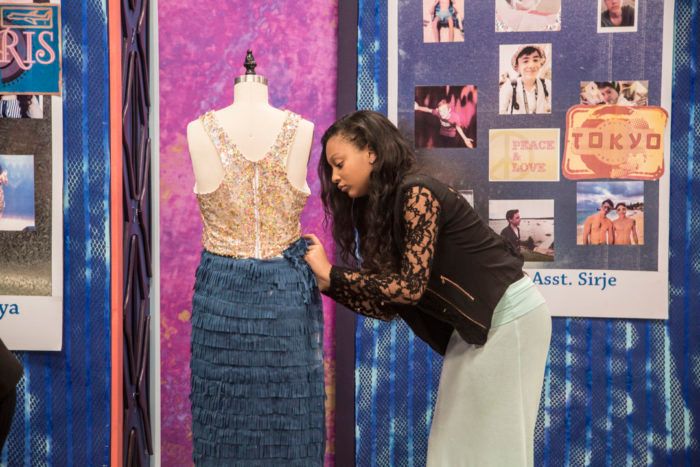 EPISODE 2, "FASHION CAPITALS"
The second episode of Project Runway: Threads featured a new group of teen fashion designers competing for a prize package worth $25,000 and a chance to me a name for themselves in fashion industry. Host Vanessa Simmons was accompanied by judges Christian Siriano and Ingrid Nilsen, and special guest judge Jasmine Snow, Senior Fashion editor at Seventeen Magazine.
This week's contestants were Grace, Grayson, and Aliyah Royal.  The three fashion gurus first face-off in the "Show Us your Style" challenge. This challenge gives the teens the rare opportunity to showcase a "made at home" garment that demonstrates their sewing skills and individual style. The winner of this first battle gets an advantage during the week's design challenge.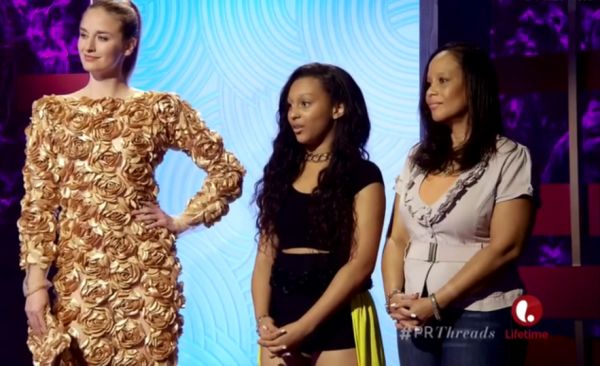 First on up was Los Angeles native Aliyah Royal. The 14-year-old created an elegant, red carpet gown embellished with gold fabric roses that encompassed the whole dress. A matching clutch completed the look.
Aliyah also added her signature "A" to the dress, as she does to all of her designs, to help her garment stand out among other looks. Her glam look received positive remarks from Vanessa and Ingrid. Ingrid, however, advised Aliyah to try to incorporate some designs that could be worn by the "everyday woman." Next up was Grayson's design.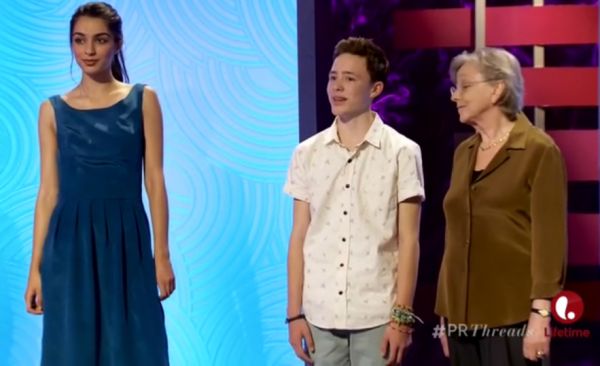 Grayson, 14, created a teal, sleeveless high-low dress lined in a complementary floral print that was visible from the front. The New Orleans native describes his designs as simple, chick, and elegant.
Although Vanessa and Ingrid appreciated Grayson's style and the unexpected "pop" the floral lining offered, they both felt that his design was too simple could have been "amped up" with edgier elements. 15-year-old Grace was the final designer to face-off.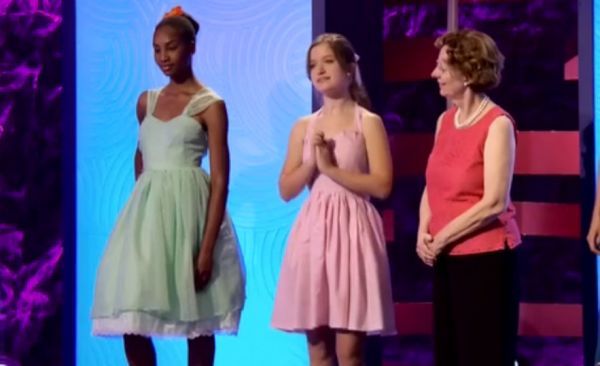 Known at her school as "the girl who sews," Grace's designs are inspired by vintage looks that hail from the 1950s. This design aesthetic can be clearly seen in the "Show Us Your Style" challenge. The garment she chose to showcase was a mint green dress with a sweetheart neckline and full skirt that featured lace trim.
Grace, who has been sewing since Kindergarten and hails from La Cañada, CA , described her personal style as girly meets glam. While Ingrid liked the shape of the dress, she suggested that the garment could have been slightly more sophisticated with a different color choice.
Aliyah Royal's self-proclaimed "extreme obsession with fashion" paid off as she was chosen the winner of the "Show Us Your Style" challenge. Soon after, the week's design challenge was revealed.
Each young designer had to create a look inspired by some of the most "iconic fashion capitals in the world." The teen fashion designers were only given three cities to choose from: New York, Tokyo, and Paris. Since Aliyah won the "Show Us Your Style" challenge she was granted her first choice–Paris. Grayson chose Tokyo, leaving Grace with New York City. If you've been a loyal fan of Project Runway and their spin-offs, you know they are infamous for introducing a "surprise challenge" in the middle of production. Project Runway: Threads is no different.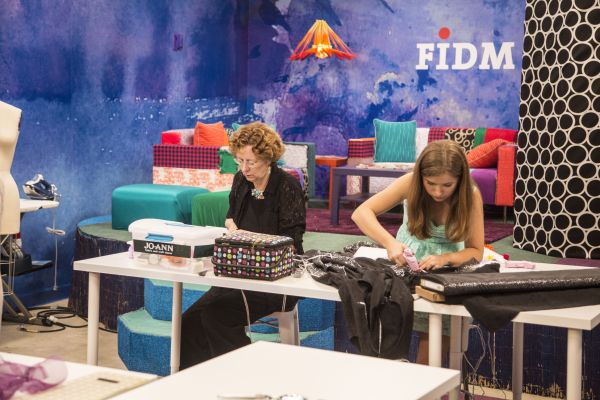 Just as the teens were finding their groove in the workroom, host Vanessa Simmons presented the three teens with a "Surprise Door Twist." For the surprise challenge, each contestant was assigned a suitcase with a video monitor hidden inside. When the teens hit play, they were greeted with a message from their friends who had further instructions. For the second challenge, the young designers had to create looks inspired by their hometowns: Los Angeles, CA, New Orleans, LA, and La Cañada, CA. Although both looks would be judged, they did not need to be cohesive.
The surprises didn't stop there. Vanessa returns for a second time to give the designers yet another challenge–"Be the Boss". The teens were instructed to leave the workroom and sit on a bench outside for 30 minutes while their assistants continued to work on their garments. The only form of communication occurred via walkies-talkies.
On to the designs…
Grace's Winning Fashion Capital and Hometown Looks:
Grace's interpretation of the New York skyline on her "fashion capital" dress wowed the judges.
The panel was equally impressed with her floral homage to Descanso Gardens which is located in her hometown of La Cañada, CA.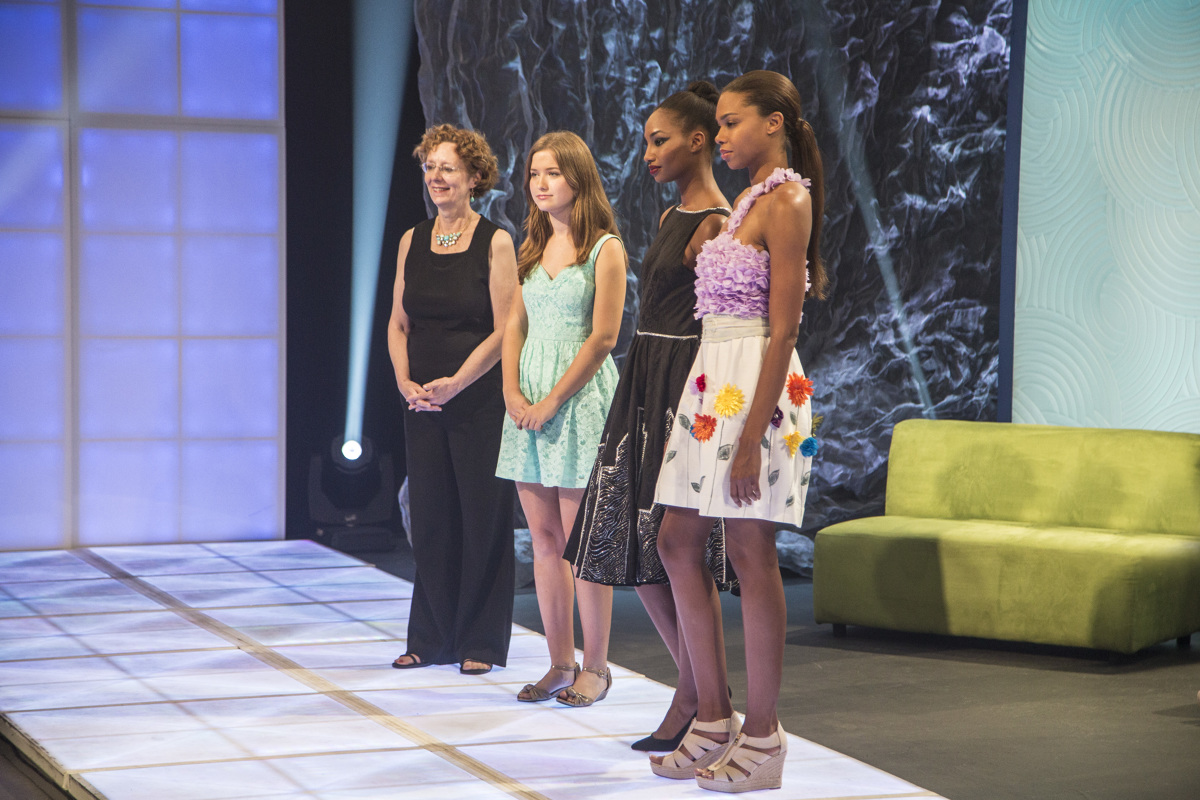 Aliyah's Fashion Capital and Hometown Looks:
Aliyah's "fashion capital" look was inspired by Paris. Her "hometown" look was inspired by L.A.'s trendy club scene.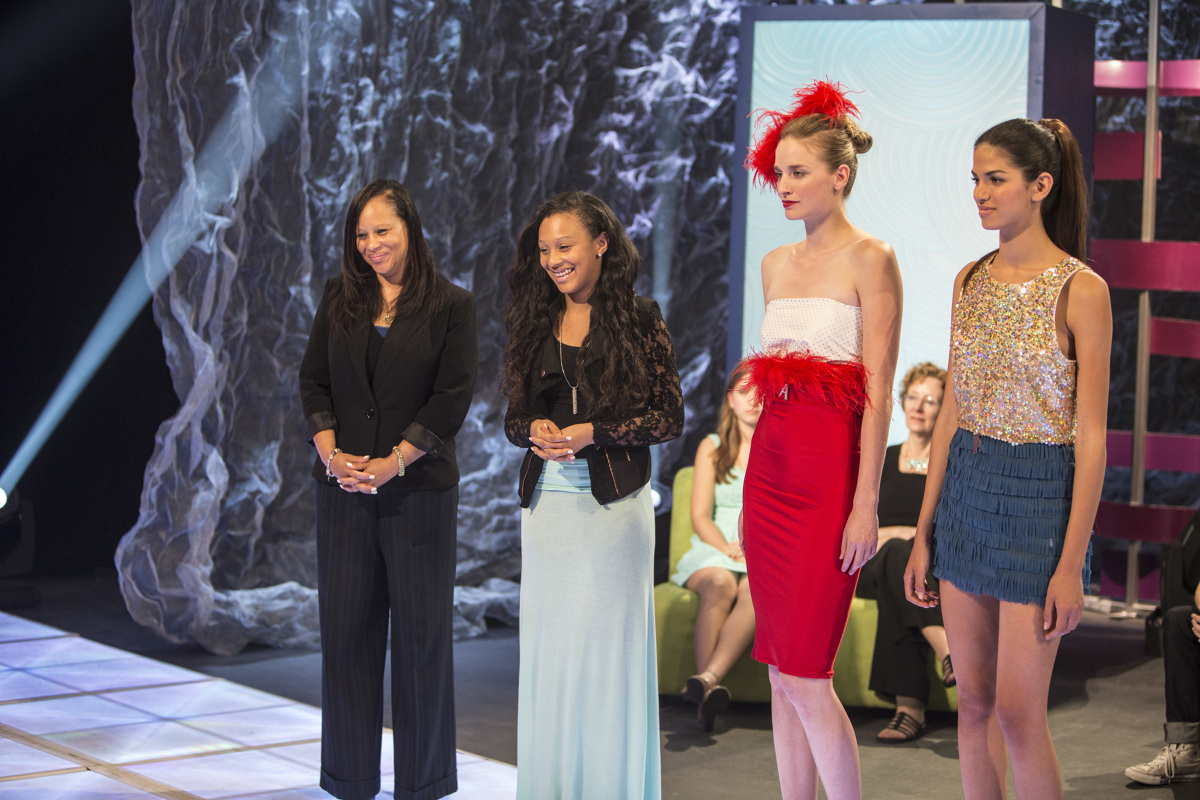 Grayson's Fashion Capital and Hometown Looks:
Grayson's Tokyo-inspired look is a "modern twist on the traditional kimono."
For his "hometown" look, Grayson celebrates his New Orleans roots by using Mardi Gras colors.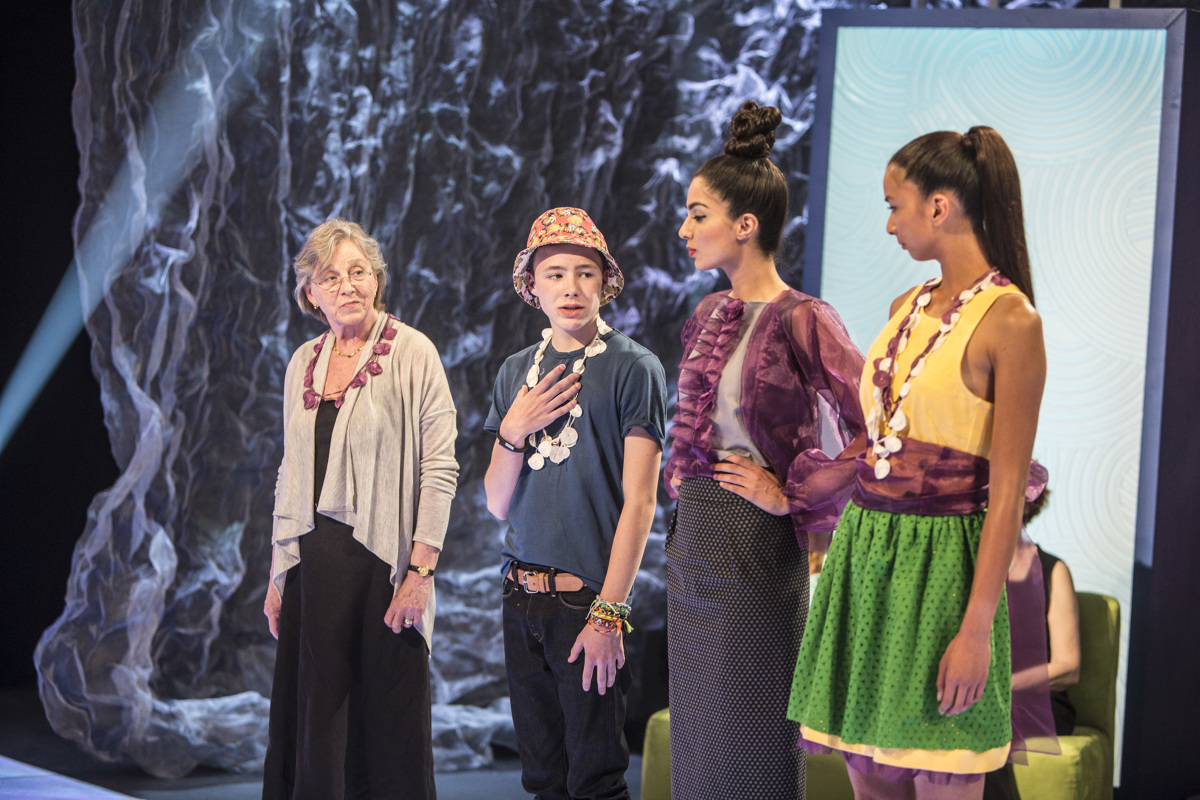 Did you watch this episode of Project Runway: Threads? If so, what did you think about the challenges? What were some of your favorite moments, and some of your least favorite moment? What did you think of the garments showcased during the "Show Us Your Style"? Do you think it's fair to ask teen contestants to create two looks instead of one? What techniques where you most impressed with? Did the judges get it right?