Project Runway, Season 14, Episode 12: Roll Out the Red Carpet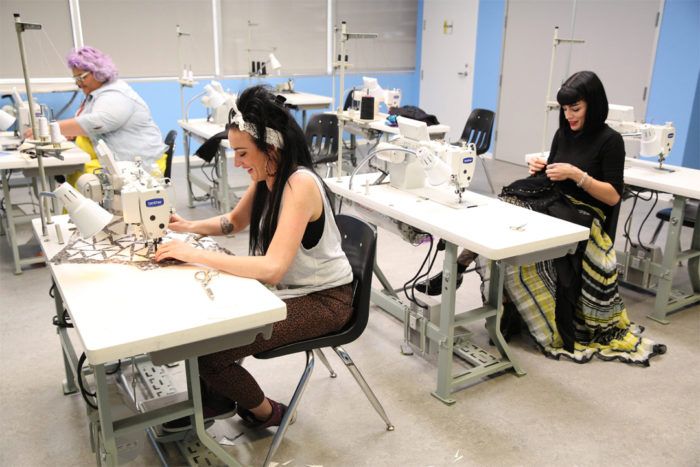 This week's episode felt like a return to old-style Project Runway: a juicy design challenge, two days to work, a decent budget at Mood, and judges trying to be fair and logical (OK, this last is perhaps a stretch, but at least we didn't see the kind of craziness that was so common two or three seasons ago).
This season's high-glamour challenge began with a Tim Gunn-led trip to Los Angeles, where the designers were supposed to become inspired by views of the Hollywood hills, and…guest rooms at a Best Western hotel. What a strange partnership and awkward product placement, but it must be said that the prize of 100 nights at a hotel beats Red Robin's bottomless fries hands down. The contestants certainly were aware of the value, particularly in a business that often calls for considerable travel.
The challenge was announced on the patio of an amazing house overlooking the hills of Hollywood, by The Insider co-host Keltie Knight.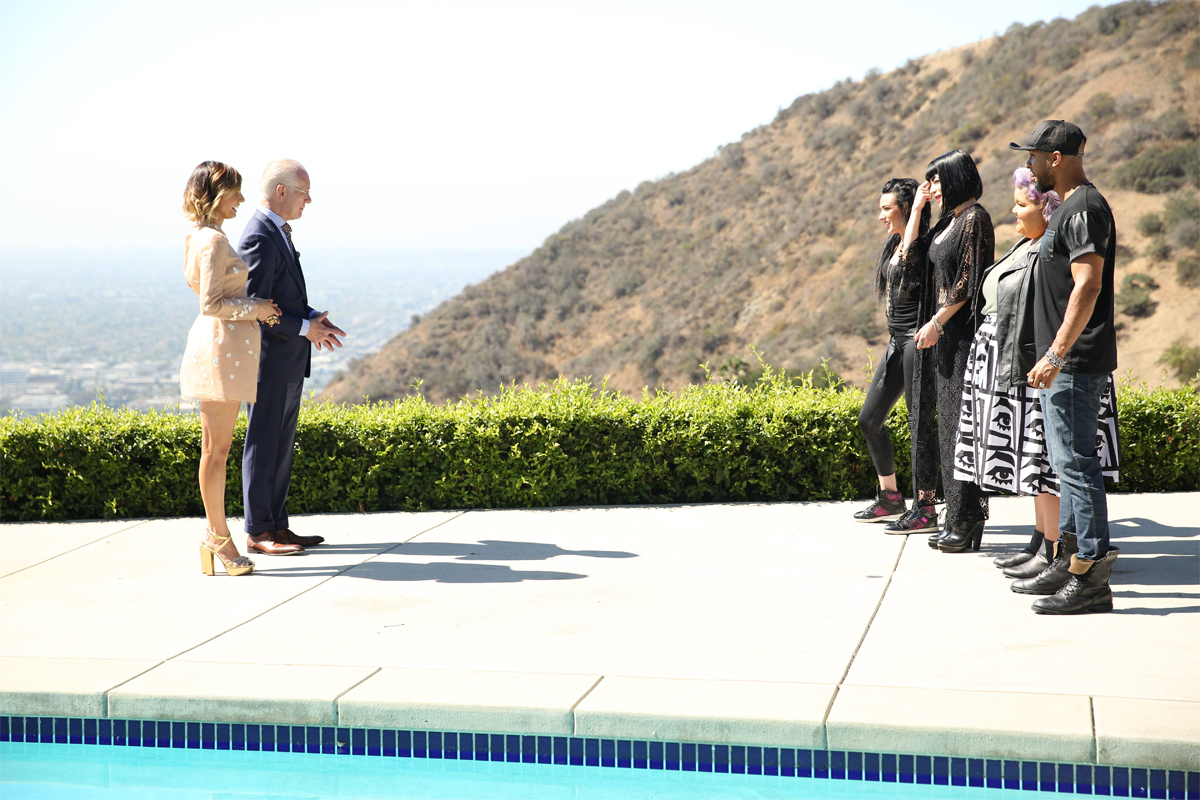 She urged the designers to take risks and emphasized the three characterstics that she looks for in an outstanding red carpet look: drama, color, and fit. It's helpful to have such clear parameters established for a challenge, and it seemed like a no-brainer for the designers to keep these in mind when shopping and planning their looks. You'll see that neither the designers nor the judges paid all that much attention to Keltie's opinions, though.
Although this was meant to be a two-day challenge, in fact the designers didn't get to their temporary workspace at FIDM Los Angeles until 7 p.m. or so, giving them only four hours for their first "day." The women designers did their best to use the time productively. Edmond Newton, on the other hand, stared at the gorgeous, multicolored sequined fabric he'd purchased, drumming his fingers on the table and stressing out. By the next morning, he'd made no further progress, and his indecision crippled him for the rest of the challenge.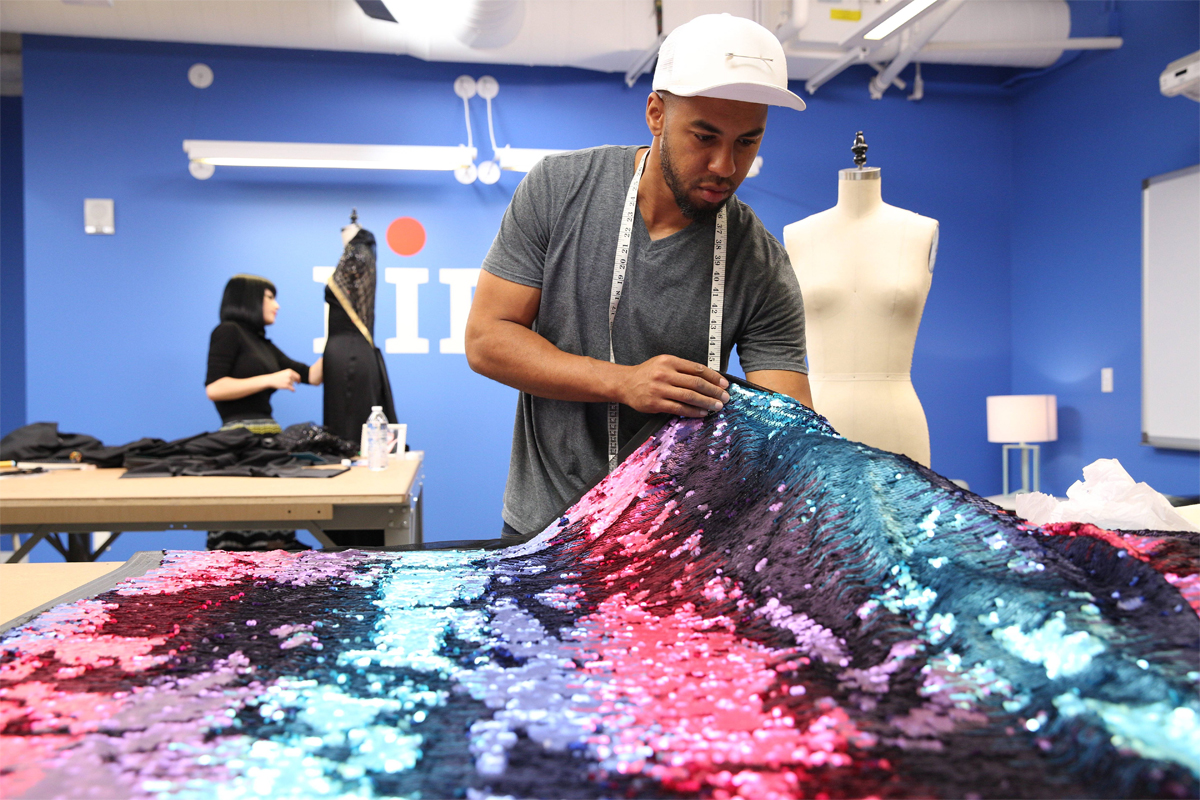 With clearer vision, Edmond could have created a real showstopper with the stunning sequined fabric he chose.
Meanwhile, Candice Cuoco was busy making a typically Candice dress: black, sleek, elegant. Kelly Dempsey embarked upon a time-consuming textile project–appliqué covered with layers of iridescent mesh. Ashley Nell Timpton had chosen a fabulous sequined fabric and was busy designing a very complicated asymmetrical gown. Tim arrived for his first critique, which, as usual, was helpful: He encouraged Candice to ditch a heavy, distracting piece of gold trim; gave Ashley a bit of tough love by telling her she needed to find a focal point in her garment; redirected Kelly from making a gown to fashioning a jumpsuit; and steered Edmond away from a puffy purple confection toward his showstopping sequined textile, by reminding him to "be fearless."
In Edmond's case, this advice may have gone amiss. After dithering for hours, Edmond seemed to have lost his inhibitions–and judgment. He started with a long sequined dress, then began chopping it shorter and shorter . . . this Edward Scissorhands approach to design always makes me bite my nails in anxiety. With so much at stake, I could hardly watch. As with Ashley's look, I was concerned about how the fabric would survive all the handling. I'm sure sequins were dropping like flies everywhere–the finished dresses couldn't possibly have lasted for more than one wearing. (To learn a better way to work with sequined fabric, check out this quick tip.)
After a final evening of work in LA, the designers flew back to New York for a quick fitting with their models before sending them onto the runway.
Runway day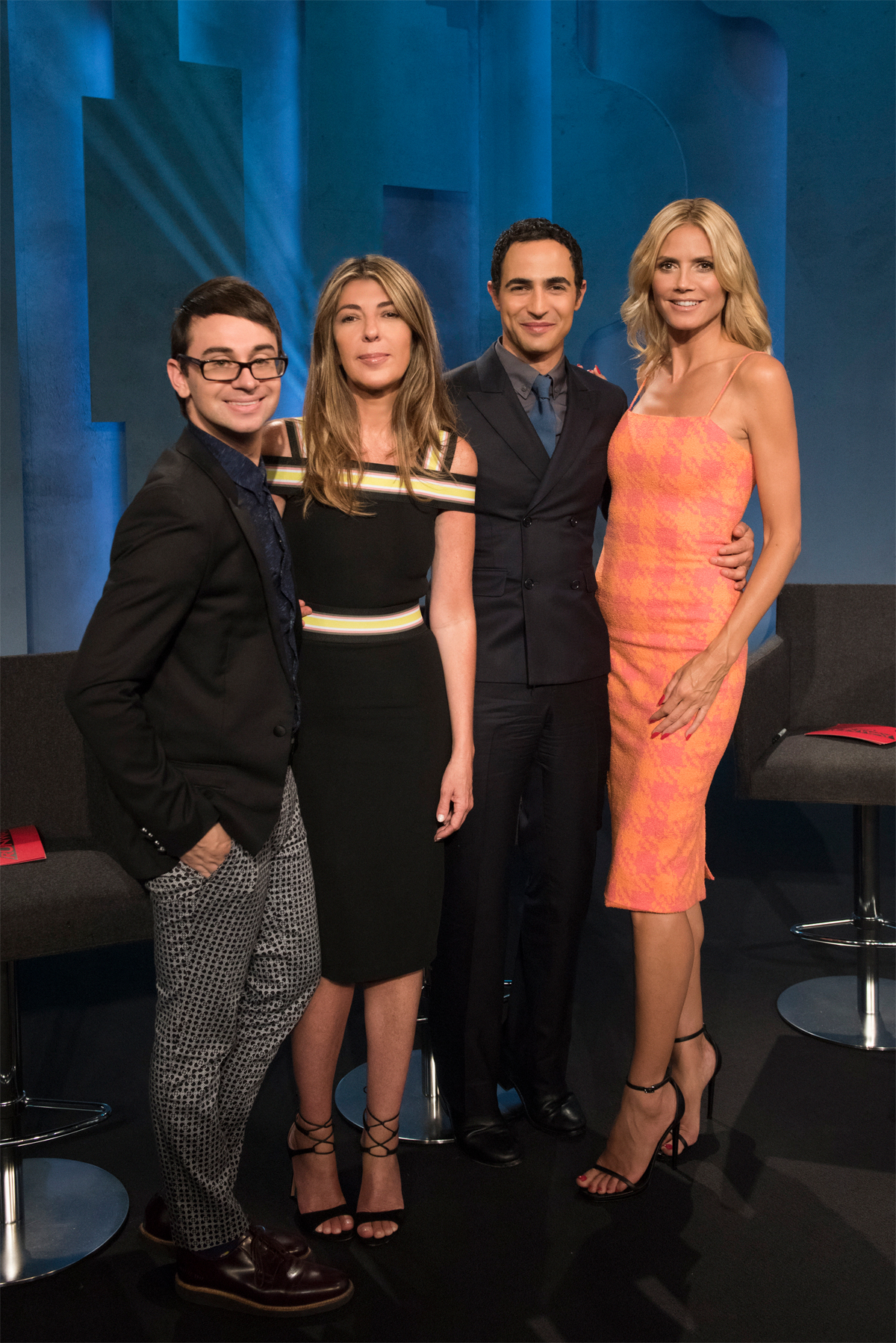 This week, designer Christian Siriano (left) joined Nina Garcia, Zac Posen, and Heidi Klum on the judges' panel.
Christian was an especially appropriate choice, as the winner of season 4 and a specialist in the type of glamorous look this week's designers were trying to achieve. He also will be a judge on the upcoming series Project Runway Junior (premiering Nov. 12, 2015).
The winner
Kelly's close-fitting jumpsuit. Kelly knew from the start that she wanted to create a special textile for this challenge, and she wasted no time in getting started. The only glitch was when she tried the look on her dress form and couldn't fasten the pants. Once back in New York, she managed to zip her model into the outfit and get her onto the runway. I doubt the model could sit, but she looked phenomenal, and the overall effect was unexpected, modern, and well-made. The judges thought it was cool, surprising, and had great details. Tim pointed out that Kelly "works hard and works smart," and Nina said she was impressed by how much Kelly has blossomed over the course of the season.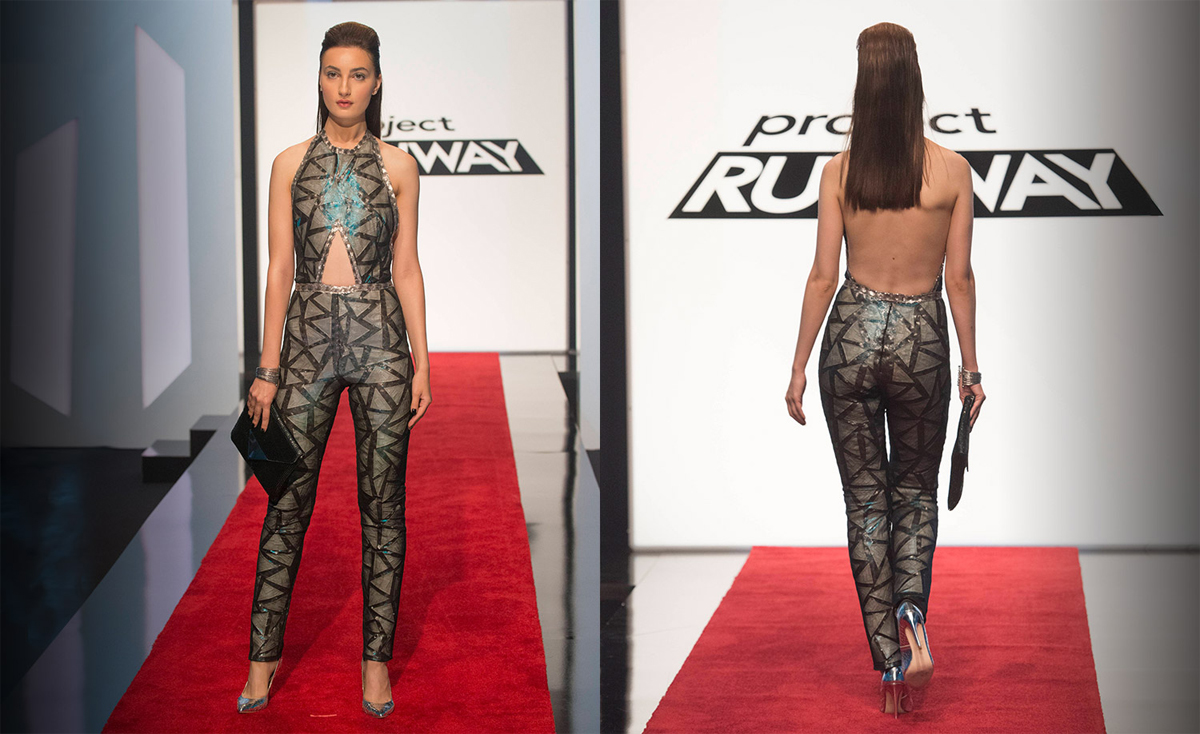 The loser
Edmond's too short, too sloppy sequined minidress. Heidi said this dress was a showstopper but wasn't new. Nina and Zac were disappointed, justifiably. Edmond is capable of much better than this, and it seemed as if his fabric got the better of him. Christian called the dress "cheap and dated." During the judging, it was clear that the judges didn't want to send Edmond home, but in the interest of fairness, he had to be auf'd for presenting the least successful look on the runway.
The remaining two
Candice's sleek black gown with sheer sequined details. This dress clearly met Candice's goals: it was sophisticated, sexy, and elegant. Heidi loved it, and the other judges deemed it tasteful, lovely, and very "old Hollywood." However, they also found it safe. It did the job of getting Candice to fashion week, but let's hope that, with seven weeks to create her collection, she pushes herself further. This dress would look beautiful on many women, and she handled the sheer patterned fabric expertly, but I think Candice can do more striking work.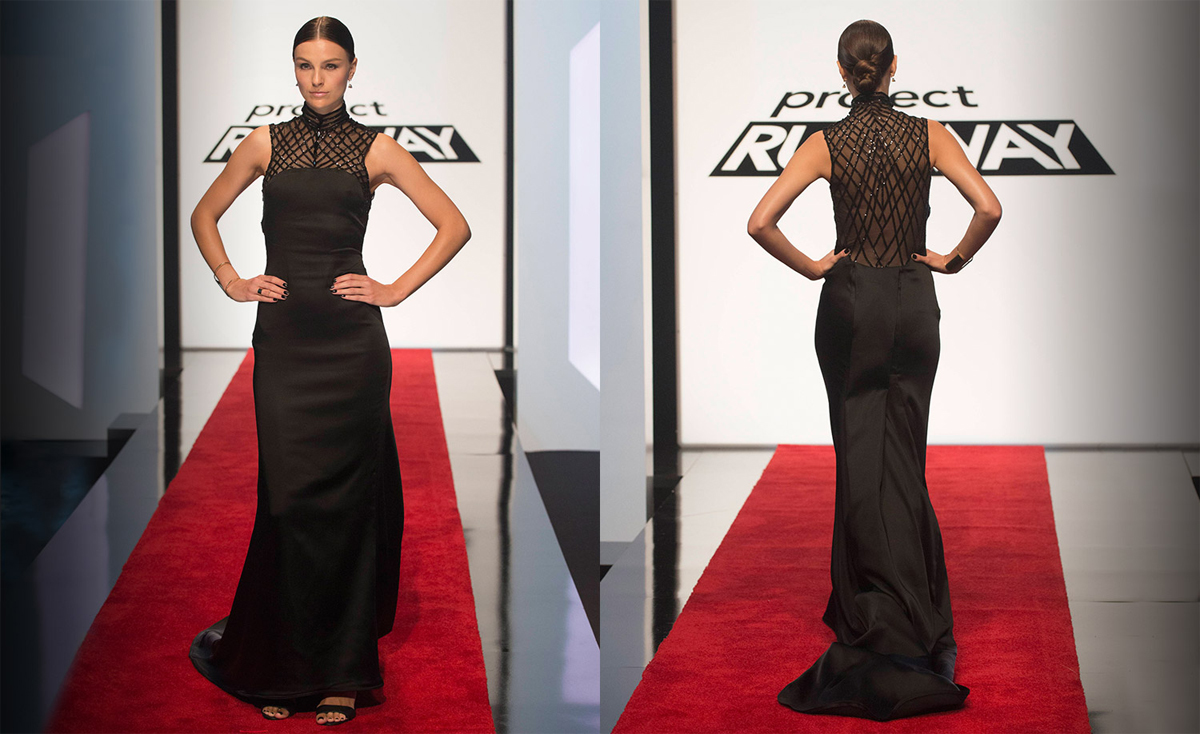 Ashley's bronze sequined dress. There were some problems with this gown (construction, for one, with the strapless portion of the bodice not properly supported), but it looked amazing on the model and made a big impact on the runway. Given that Ashley doesn't do gowns, and the fact that she's shown a worrying lack of confidence in weeks past, it was a pleasant surprise to see her attack this challenge. She responded effectively to Tim's criticism, and didn't freak out when the construction wasn't working the way she'd hoped. The result was better than anyone expected, I think, and certainly good enough to give her the final place, over Edmond, at fashion week. Christian described it as fabulous, luxurious, and cool; Nina found it glamorous; but Zac said he thought the fabric wasn't good for the red carpet.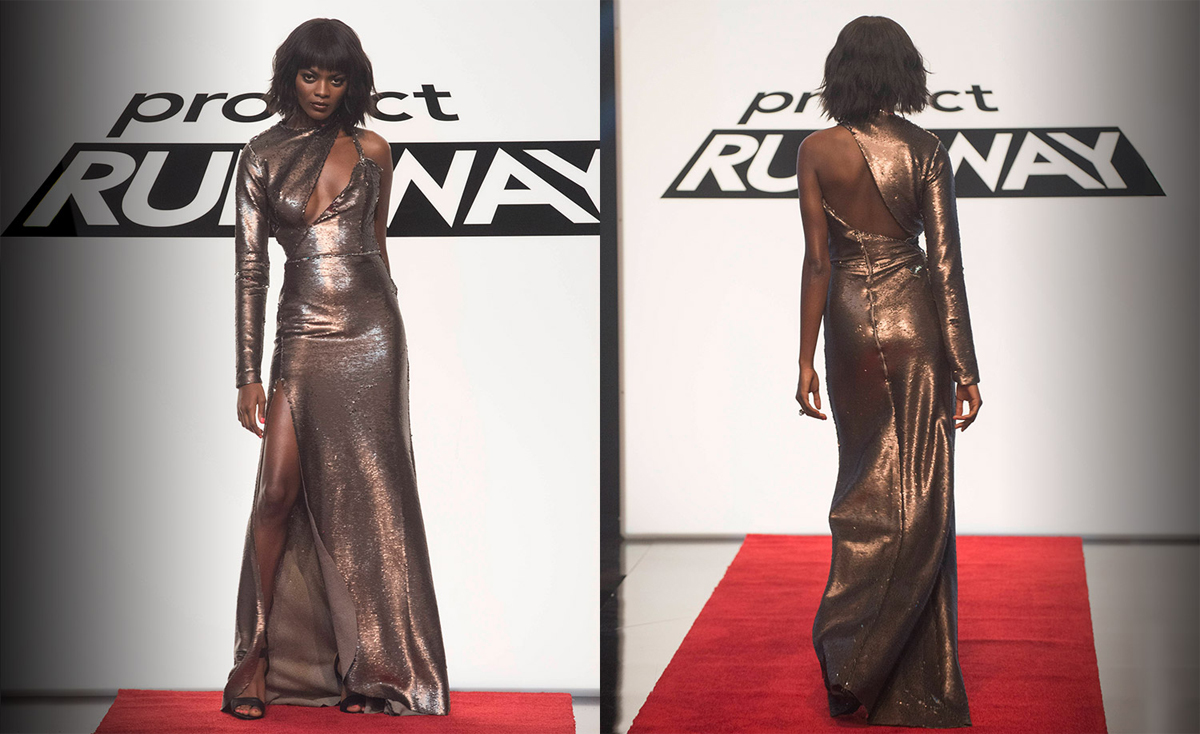 When the judges eliminated Edmond, I was both sorry and relieved. I expected them to set up one of those crazy one-hour final challenges to decide between Ashley and Edmond, but in this case, even they grasped that they couldn't pretend Edmond's dress was as good as Ashley's. I did wonder if the Tim Gunn save would come into play at this point. It didn't–at least not this week, but who knows if next week's episode won't begin with at little pro-Edmond twist!
Did you agree with the judges? Which look was your favorite? What kind of collections do you think the finalists will create? I can't wait for Tim's home visits–I love seeing him in the designers' studios!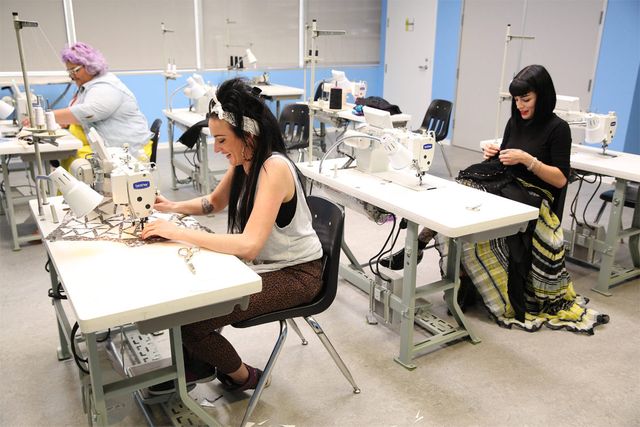 Ashley, Kelly, and Candice in the sewing room constructing their garments.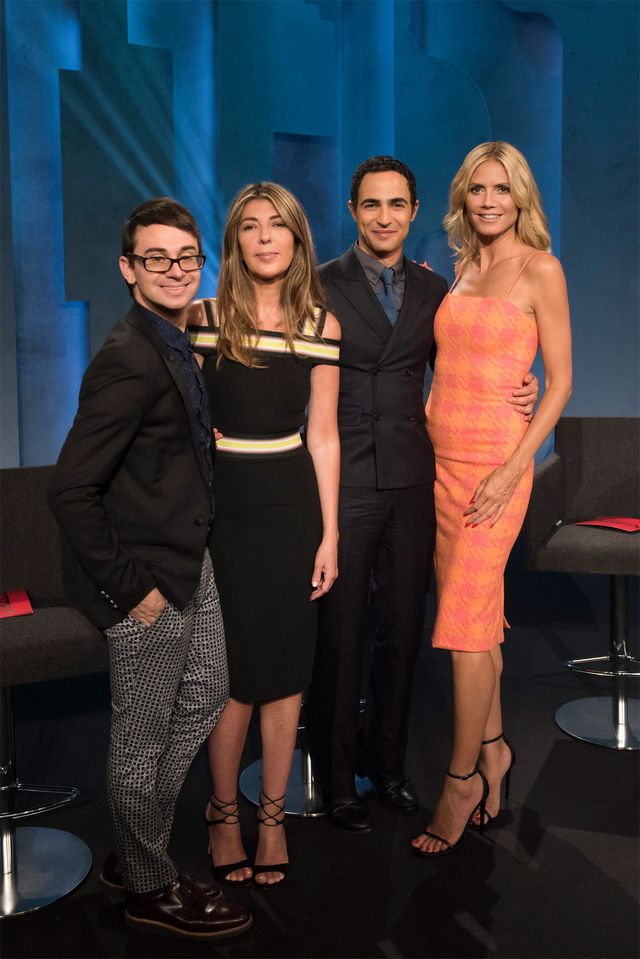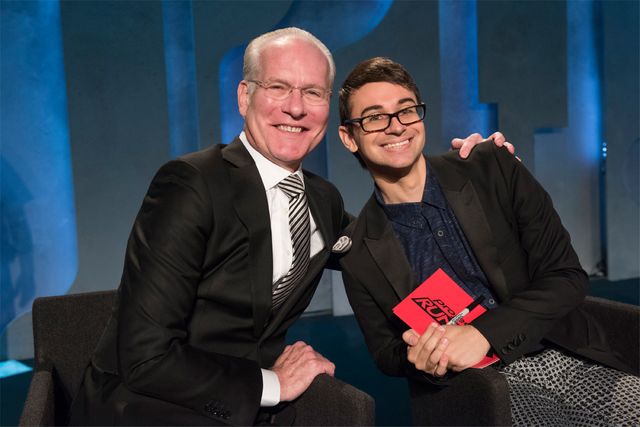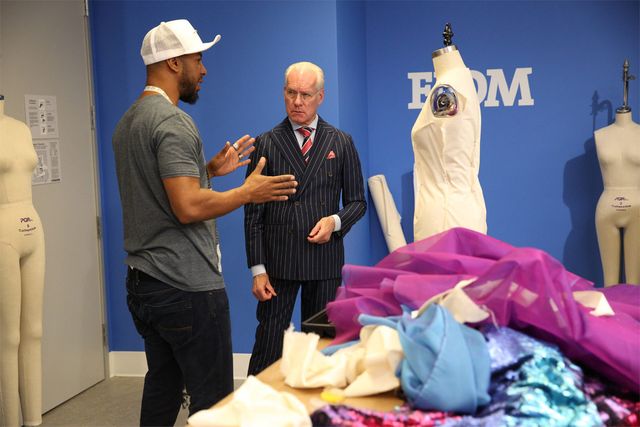 Tim gives Edmond some sound advice and critiques the designer's work.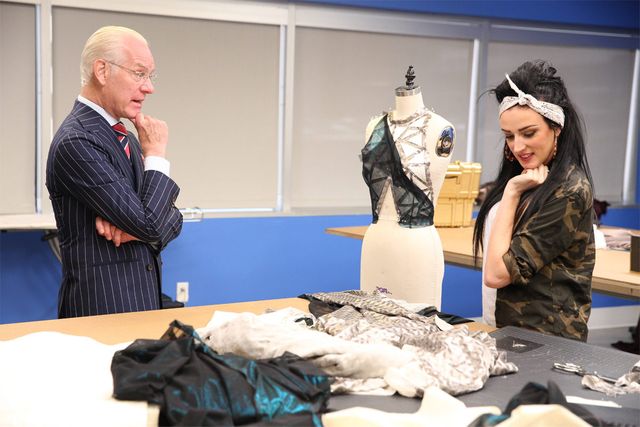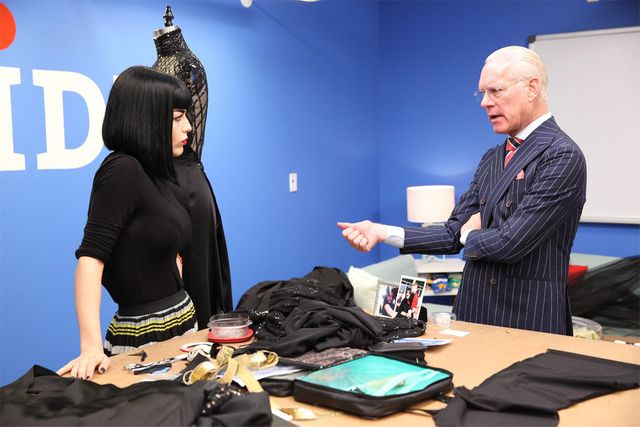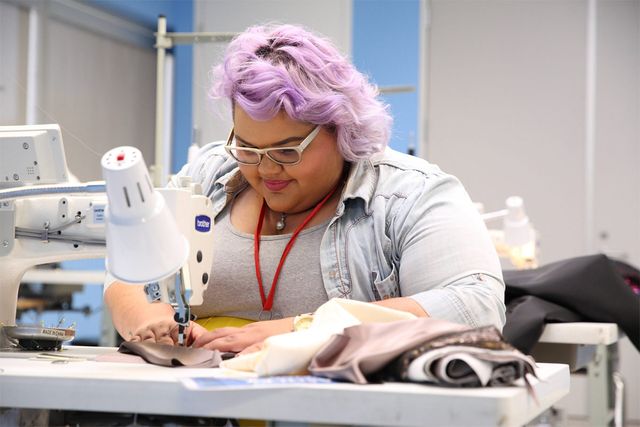 Ashley concentrates on sewing her runway look.