Project Runway Junior: Episode 5, "Race to the Red Carpet"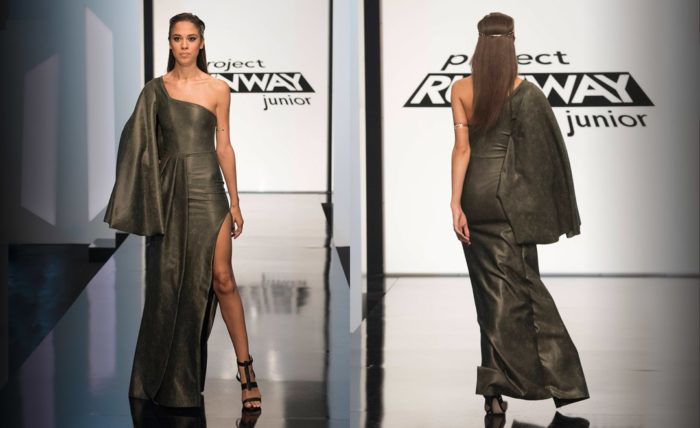 We're down to eight designers, so the competition is getting fierce, but the hard-working, talented contestants are still behaving like ladies and gentlemen. This week, the brief was to create a special evening look suitable for a Broadway premiere, specifically the premiere of Finding Neverland. The show has been running for a while, so its hypothetical opening night was a thin pretext for making a fancy dress, but it was more than sufficient to inspire the youthful designers.
The bigger issue for them was that this was another partner challenge. The pairs were established through a random draw from the dreaded button bag. The pairs came out as follows: Maya and Peytie, Zach and Samantha, Jaxson and Bridget, and Matt and Zachary. The partners seemed generally pleased with each other and were poised to get started when a twist was announced: They had five hours to complete their look, they could use only fabrics from mini-Mood (the in-studio fabric closet), and, to make it all possible, each pair would have the guidance and assistance of a special guest–a Project Runway alum. The kids couldn't have been more excited. It was adorable to see them fan-girling and -boying at the prospect of working with their designer idols.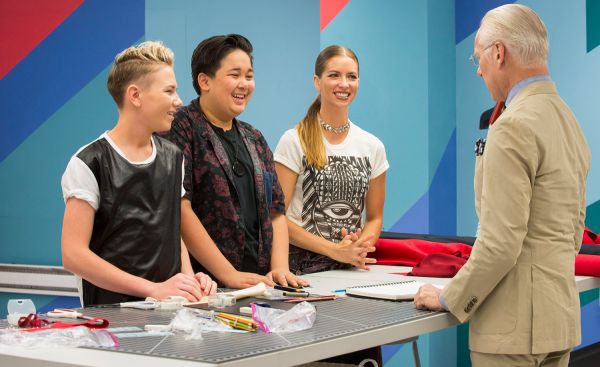 Peytie and Maya were paired with Fabio Costa (Season 10). Matt and Zach worked with Amanda Valentine (Seasons 11 and 13). Zach and Samantha were assigned to Samantha Black (Season 11), and Jaxson and Bridget got Sonjia Williams (Season 10). Somehow, each pair felt they had gotten the perfect adult helper, so everyone was happy and energized.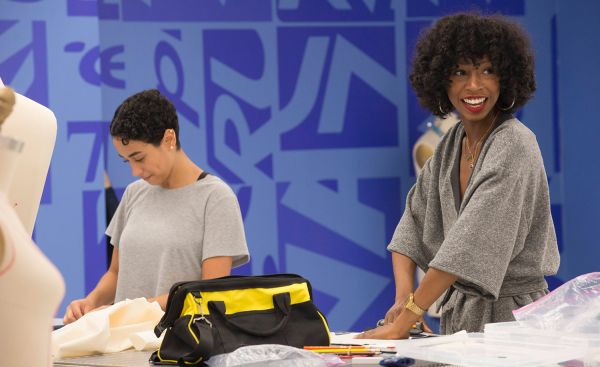 The design process went well for three of the teams, but Bridget and Jaxson were devastated by a poor critique from mentor Tim Gunn. They'd chosen an unattractive palette of dark red and peachy pink. They made another false start or two, with Bridget having a small meltdown. Sonjia gave her a no-nonsense reality check: Tears won't get the job done. And when Bridget and Jaxson finally settled on a design and a textile, they came up with a very interesting look.
The winners:
Peytie's and Maya's romper under a long, flowing skirt. The judges loved this, and thought it was exactly the sort of outfit a young woman like Taylor Swift or a member of her "squad" would wear. The girls had started out with a white organza skirt over the cut-velvet boy-short romper, but took Tim's criticism seriously and rethought this design, replacing the white skirt with a black one.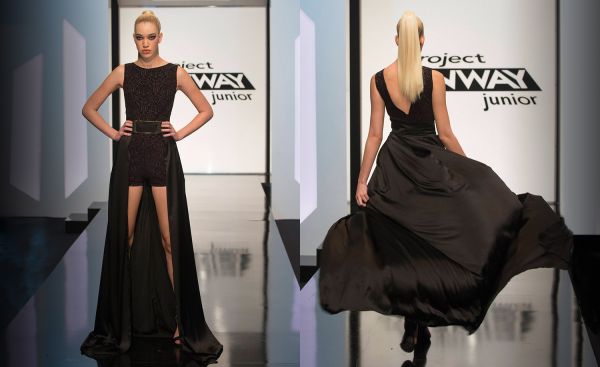 The losers:
Matt's and Zachary's red gown with drapes and cutouts. The boys had big ideas for a glamorous gown, and worked well together, but the final product was ill-fitting and overdesigned. They handled the runway critique like pros, accepting criticism maturely, and doing their best to defend their design. The judges felt, however, that Matt had brought down Zachary's typically sophisticated aesthetic, and this week sent Matt home. In a typical Project Runway season, this would have given Zachary the opportunity to throw Matt under the bus, but he didn't. Instead, Zachary, Tim, and the other designers were clearly upset to see Matt go home. From the TV viewer's point of view, Matt was entertaining but a bit supercilious. I suspect, though, that he was less shallow and more of a supportive friend than we saw. I think we'll see more of him in some other context . . . red carpet commentary, perhaps?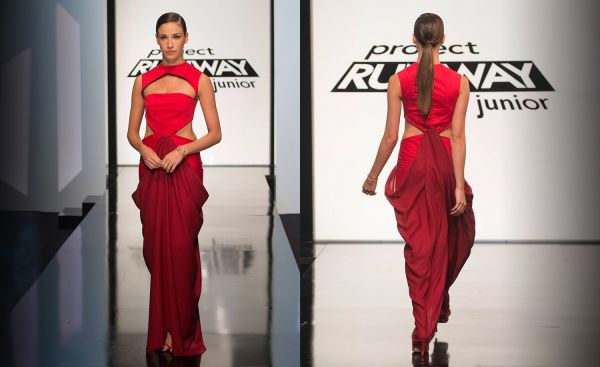 The remaining looks:
Samantha's and Zach's jumpsuit with cape. This outfit was striking. Kelly called it "modern medieval magic," and all the judges felt it hit a sweet spot between old Hollywood glamour and modernity. The jumpsuit was well-fitted, and the cape dramatic without veering into costume territory. The pairing of modern, urban/street-style Samantha with southern, charming Zach didn't seem obvious at first, but the designers worked well together and with their mentor, Samantha Black.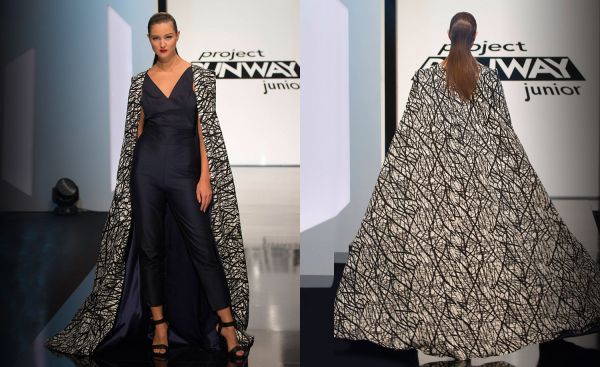 Jaxson's and Bridget's asymmetrical gray-green gown. These two had the most trouble focusing on their design, and indeed, indecision seems to be Jaxson's regular m.o. Bridget, who has admitted to being a perfectionist about her work, was clearly stressed by this, but once again, the kids simply were not bratty or contentious with each other. The dress they made was unusual. The fabric was described by the judges as "swimsuit fabric," but on the runway, it looked like leather. The draping and one-sleeve silhouette surprised the judges, and the dress looked amazingly well-made, considering that it was the third (I think–I lost count!) look the pair made.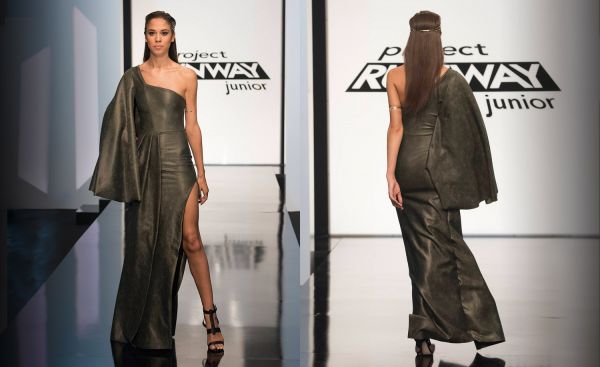 How did you like the challenge this week? Was Matt your choice for the losing designer? Do you think Tim should have used his "Tim Gunn save" to rescue Matt?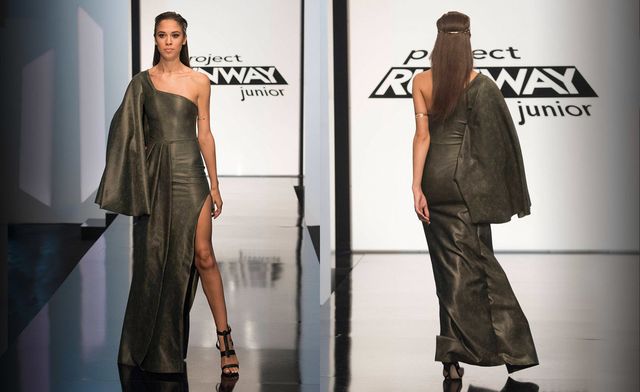 Bridget's and Jaxson's look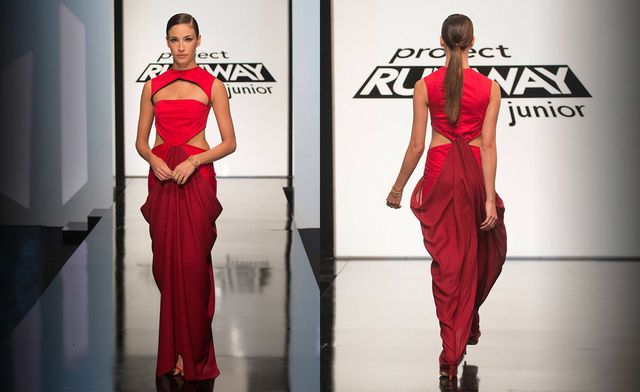 Matt's and Zachary's look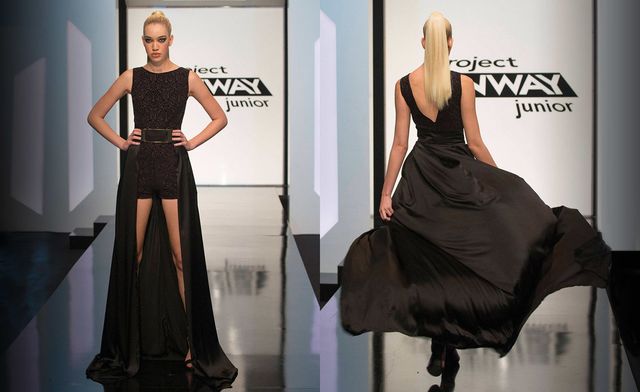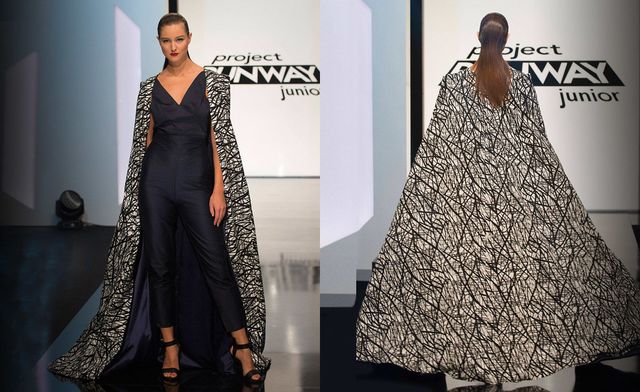 Samantha's and Zach's look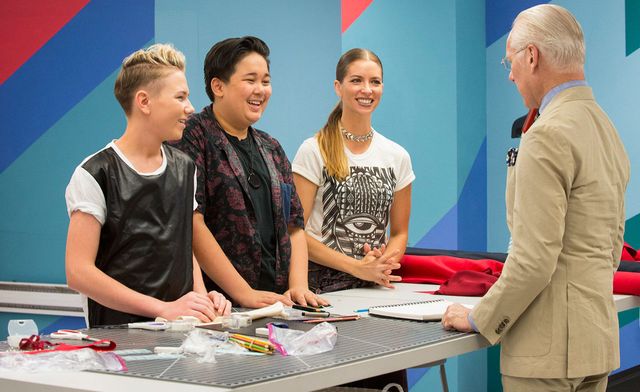 Matt and Zachary were paired with mentor Amanda Valentine.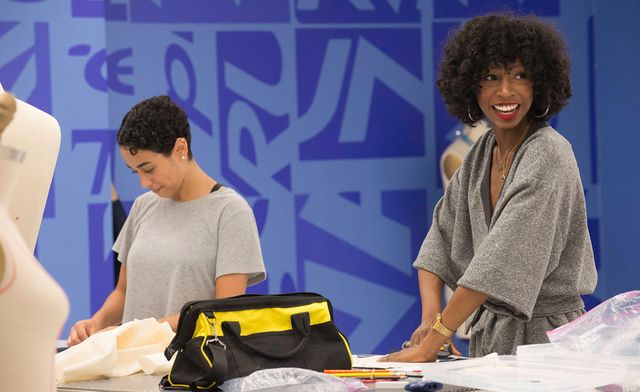 Samantha Black was chosen as mentor for Samantha and Zach.