Project Runway: Junior, Season 1 – Episode 9: "Finale, Part 1"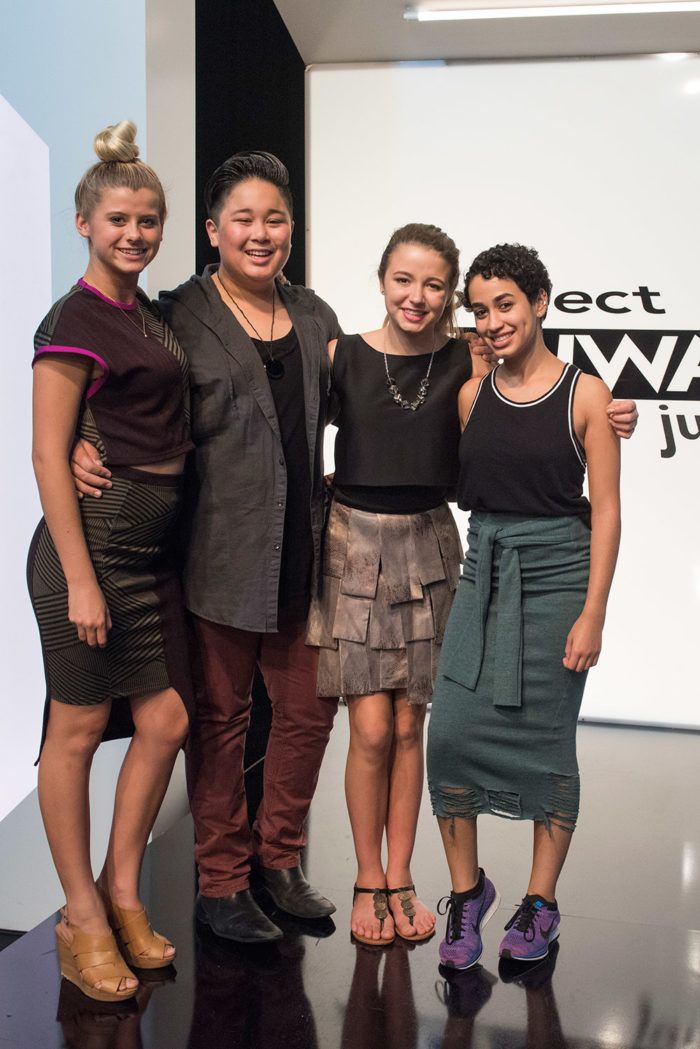 As sad as I am to say it, we're finally down to one of the last episodes in season one of Project Runway: Junior. Watching the group of teens dwindle down to the final four has been different, to say the very least, than it has been in previous season. The teenagers all seem genuinely grateful to be on Project Runway and their attitudes have been wonderful. There have been no major breakdowns, arguments or unfinished garments making their way down the runway, which proves that a bunch of 14 to 17-year-olds can be just as, if not more, professional than people twice their age.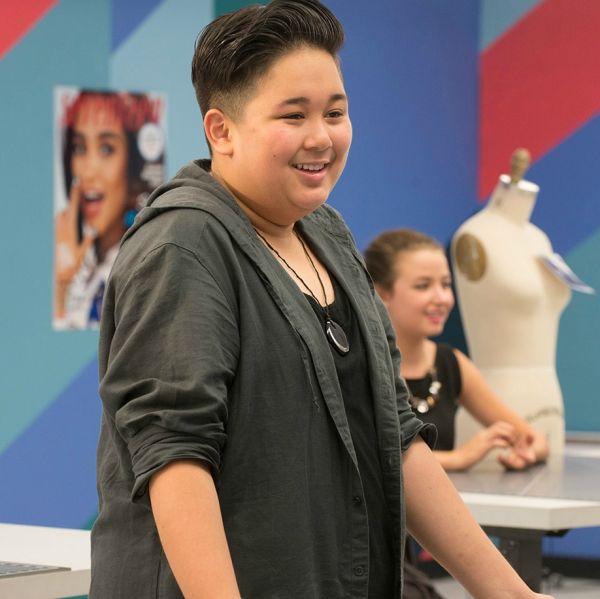 At the start of this episode, Zachary praises Tim for allowing him to stay and seems all too happy to be continuing on in the competition. Little does he or any of the other contestants know that things are going to only get more stressful from there.
Host Hannah Davis wastes no time in telling the designers the exciting news about this weeks challenge. Each designer has been assigned the task to create six original designs for New York Fashion Week. The were given the gift of four weeks and a budget of $4,000 for their creations. The four contestants will be at home during this period of time, so they are pretty much on their own in terms of scheduling. Tim Gunn did tell the contestants that they have to come back to New York after three weeks for a check-in, just to make sure they are on track and will be ready in time.
After explaining what they would have to do, Tim took the designers up to the workroom to let them in on yet another surprise. Amanda Valentine, Project Runway Season 11 and 13 alum, came to give the designers one last piece of advice. She told the young designers to "follow [their] instincts and stay true to [them]selves." They were then shown the Visionworks display, in which they were tasked to dress one of their models in a fashionable pair of glasses.
Zachary went home to Berkeley, CA. There he decided he wanted to take a few days off to figure out what it was that he wanted to do with his collection.
Peytie headed back to Carlsbad, CA. After a week of designing, she came to the decision that her outfits were not what she wanted them to be. She chose to scrap them and start fresh.
Maya, in Toledo, OH, chose leather to use in her design. This is fairly unsurprising, considering her past looks. In fact, she even posed the question of whether or not it would "really be a Maya collection without leather." It was very apparent that Maya was working as hard as she possibly could. She even documented herself awake at 2am – still sewing! That's dedication for a 14-year-old.
Samantha stayed in New York City but did go home to her family in Queens. She confessed that she had been changing her mind a lot about her design, which is the first time she admits to having this struggle. She does, however, state that she knows where she wants her look to go. Her sketches show a lot of miliitary-esque materials and designs, as is the Samantha way.
3 weeks later, Tim and the designers met back in the workroom to do a once over before the designs hit the runway. Tim met with Peytie first. He seemed very impressed with her designs at the beginning, but once he saw a recycled fabric Peytie used in another challenge in three different looks, he called her out. Without explicitly stating it, Tim suggested she choose new fabrics to use. He did criticize the construction of one of the pieces, but still was kind with his word choice.
He met with Maya next. Tim immediately picked up on her nervousness without her even having to say a word. It became very clear that the long nights working had impacted her somewhat negatively. Despite all that, Tim told Maya that he loved her collection and felt that it really showed who she was as a designer. He did, however, warn her to not go over the top and suggested she just clean up a few things.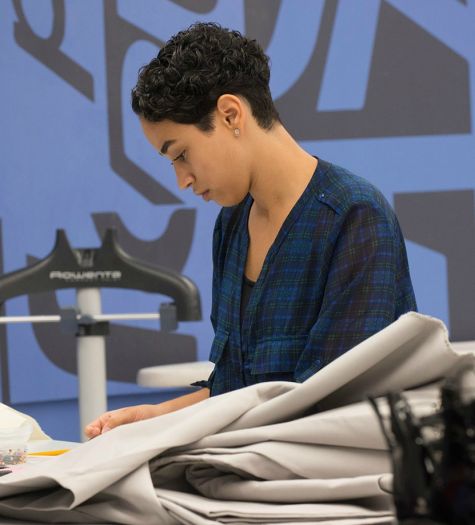 Next up was Samantha. She was unprepared and stated that it was due to the slow paced world she had been faced with back home. Tim instructed her to take a look at the pants she designed and warned her about the fit. Head-to-toe neoprene in Tim's mind (or really anyone's mind, I don't think) was not an attractive look and instructed her what she could do instead to make it look less forced. He also told her to change things up because the variety in her designs were rather limited.
Lastly, he met with Zachary. His only criticisms of his collection is that it needs to be a bit more cohesive. He told him to make adjustments as necessary. Overall, Tim did not have any big issues with the collection. 
Once all the designers met up with each other in the workroom, Tim surprised them yet again by telling them that they would have to show the judges a portion of their designs in only a few hours. This was very bad for Samantha, who had to create shorts the morning they were going down the runway.
There was not a single contestant that didn't feel the stress of this runway show. Two of the designers sent unfinished creations out – for the first time since Project Runway: Junior premiered. Regardless of all that had to be done, they still had to send their models out to the runway.
The final looks: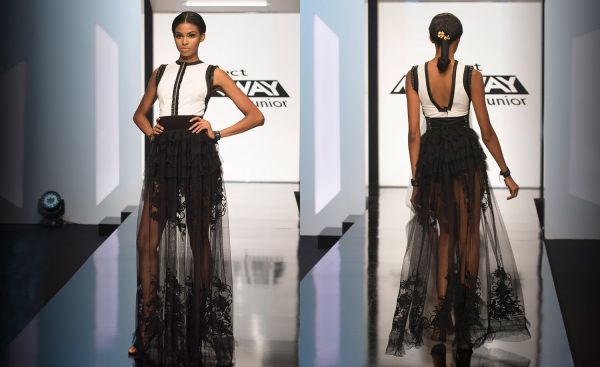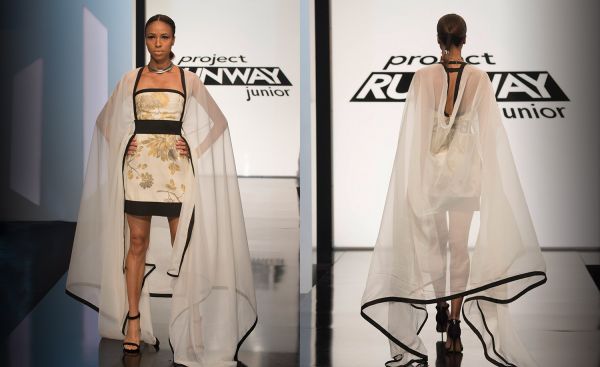 Maya's designs: Maya took her second design from the inspiration of a warrior in a field of yellow flowers. She wanted to give it a bit of a Japanese flair. Judges praised her use of allusion and the flow of both dresses. The judges seemed very impressed with her skill level, and Hannah stated that these pieces truly showed her growth throughout the contest. The designs were both fairly mature, but they praised her ability to still somehow manage to keep it young.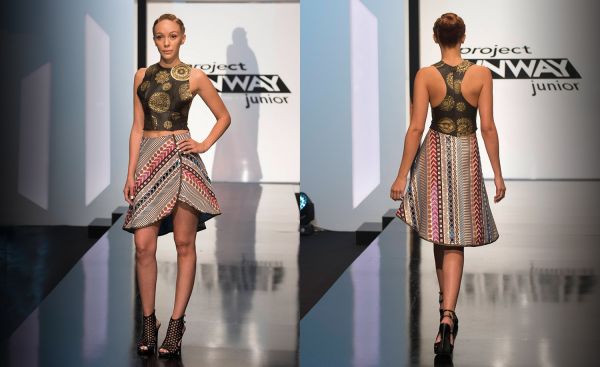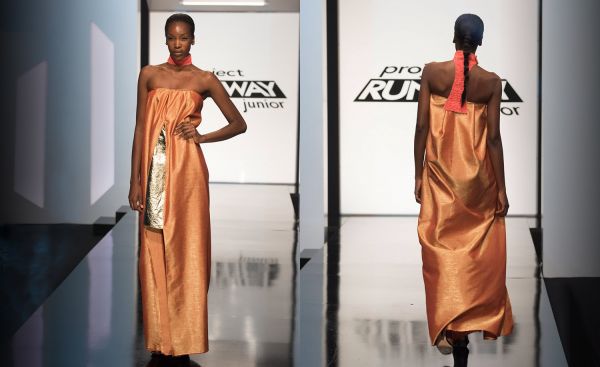 Peytie's designs: Peytie stated that her design really reflects her personal style. The looks themselves were inspired by travelling. She wanted each piece to look unique and like she got each type of fabric/piece of clothing from somewhere different. The two pieces she chose to show the judges were her least favorite pieces. Judges warned her to work on the fit for both pieces. For the second design, the judges praised her color combination, and and suggested she find a way to make it a bit more flowy. Kelly Osbourne reminded Peytie that whatever you put on the runway cannot be taken back.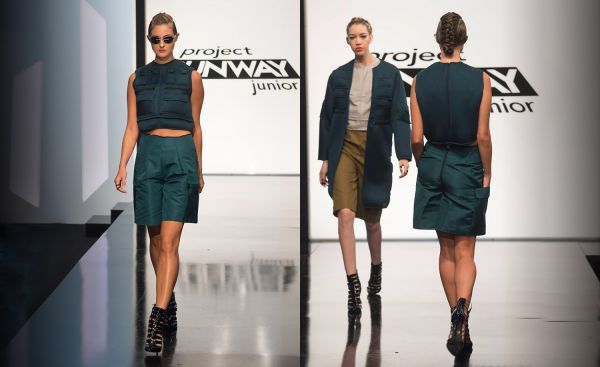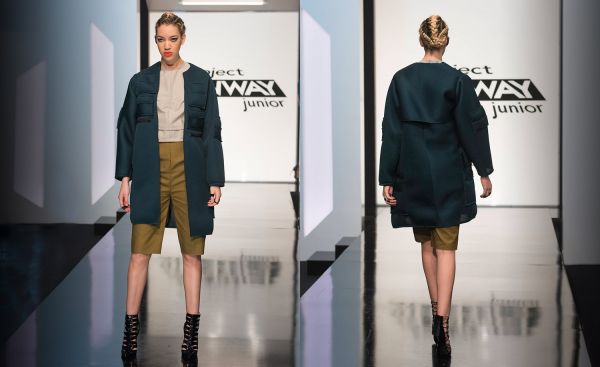 Samantha's designs: Samantha's design was inspired by military uniforms. She used mesh, neoprene and canvas to channel this look. Judges laughed (not maliciously) at how unfinished the designs were. They praised her style, but also warned her to try something different, maybe a pop of color. The judges suggested it would be smart to add one or two evening looks. She has stuck with the same style throughout the competition, and judges don't really seem to be eating it up anymore. They want more variety from her.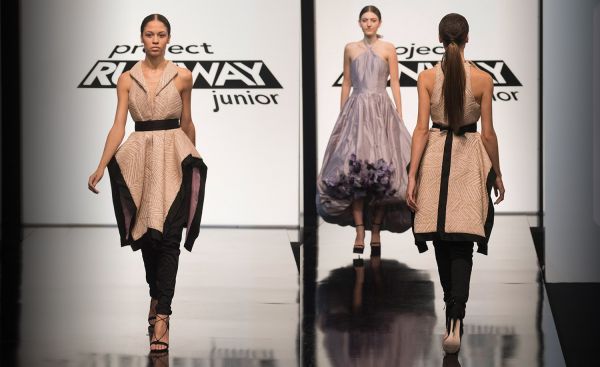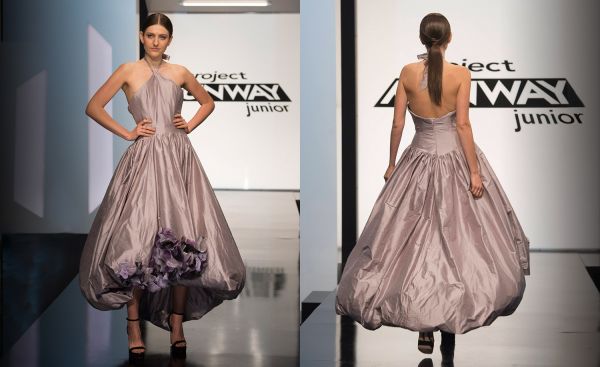 Zachary's designs: Tim warned Zachary to "beat back the prom" with is one design. The judges did not mention anything prom related so I would say he achieved that. He wanted to channel the beauty of nature in a mature way, which I personally think he did. Kelly instructed Zachary to work on the fit and making both designs less matronly. On the first design, it was easily made younger by simply flipping up the lapel. His changes seem pretty easy to fix. The judges also seemed a bit worried about their lack of connection. 
Whose collection do you like the most so far from the previews? Who do you want to see get the title of the first winner of Project Runway: Junior! Leave a comment down below letting us know, and tune into part two of the finale next Thursday at 9pm ET/PT on Lifetime.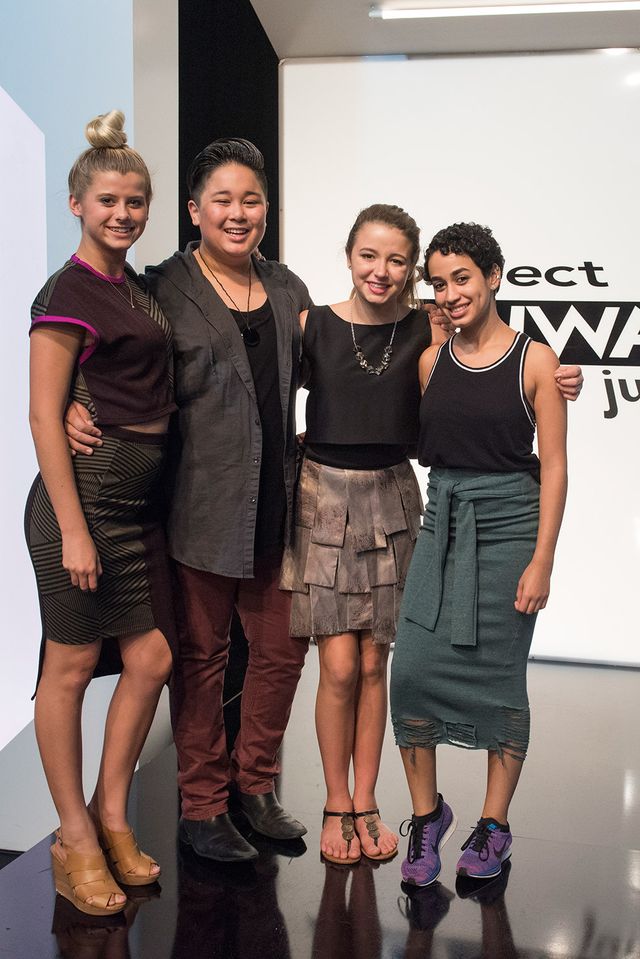 The final four contestants: Peytie, Zachary, Maya, and Samantha.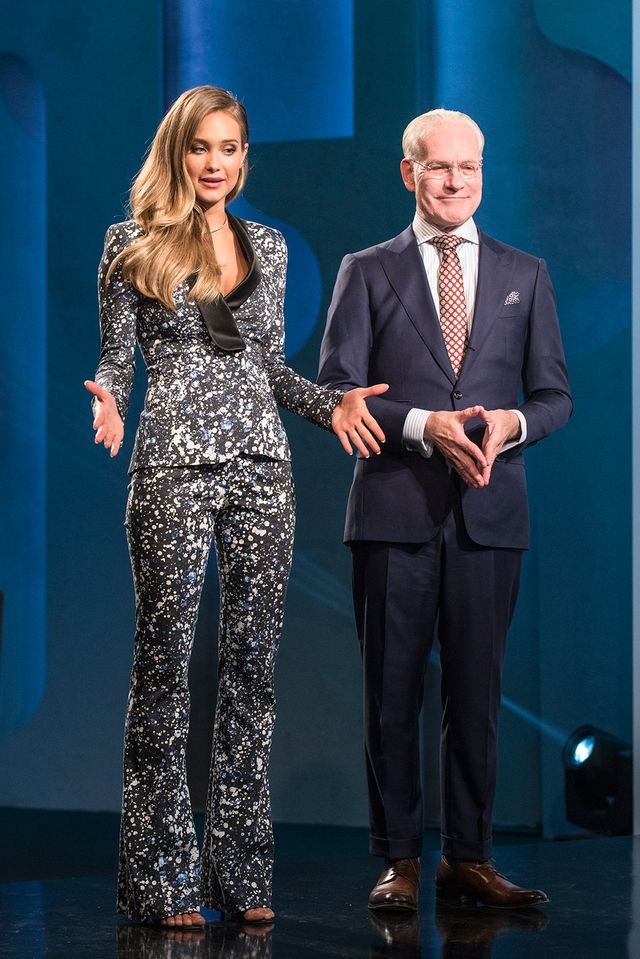 Host Hannah Davis and mentor Tim Gunn introducing the challenge.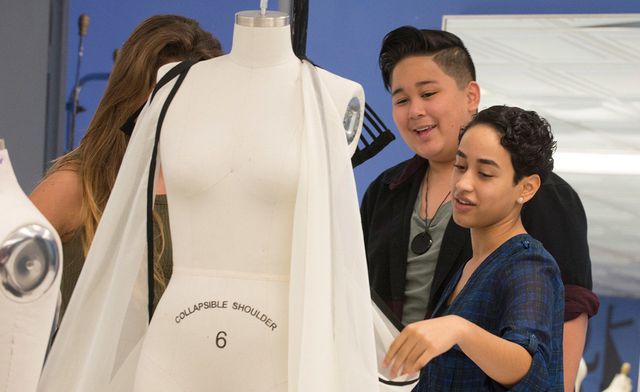 Contestants looking at each other's designs in the workroom.