Imagine Sewing 1,000 Dresses: Upcoming Film Explores Charity for African Girls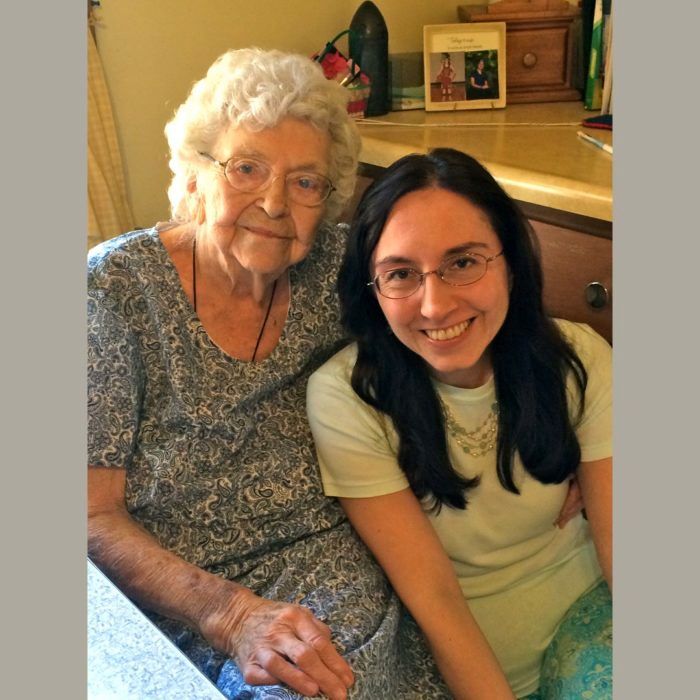 Vicki Vasilopoulos, the award-winning filmmaker behind the documentary Men of the Cloth, is working on a new sewing-related subject. The Little Dress: A Journey of Hope chronicles the dedication of volunteers who sew for girls in Africa as well as the work of the Little Dresses for Africa (LDFA) organization.
 One volunteer in particular, 100-year-old Lillian Weber of Iowa, sparked Vicki's intention to make the film.
 "The Little Dress: A Journey of Hope is a culmination of my interest in the welfare of girls in the developing world, and my fascination with the ancient craft of sewing," Vicki says. "I was captivated by Lillian Weber's goal to sew 1,000 dresses for needy girls in Africa before she turned 100 years old. Her story resonated with me and I saw that she inspired like-minded individuals from all walks of life and brought added attention to the nonprofit Christian organization Little Dresses for Africa."
The early production phase of The Little Dress was self-funded, but to bring the narrative full circle, Vicki plans to tell the story of a little girl who receives one of Lillian's dresses during LDFA's next trip to Malawi.
As of April 11, the production had secured 50 percent of the funding to film the African phase of the project. Vicki leaves April 21 for a 10-day production shoot in Malawi. Her goal is to raise $17,000 by May 9 for production costs and travel expenses.
To check out the Indiegogo campaign page to support the film and see a video about the project, visit https://igg.Me/at/thelittledress.
The campaign is also accessible by going to Indiegogo.com and searching for The Little Dress, or by visiting TheLittleDressFilm.com.
 Contributions are tax deductible and there are incentives for contributors, such as clothing items and accessories from DSENYO, a Colorado-based social enterprise that works with artisans in Malawi.
 "We've been waiting for the opportunity to go to Africa. It would be an important and moving scene if we could film Lillian's reaction to that momentous event," Vicki says. Lillian turns 101 in May and is being honored as an Iowa Mother of Achievement by American Mothers, Inc. on April 16.
 The crew also plans to film LFDA founder Rachel O'Neill doing outreach in Malawian villages with her core group of volunteers and preparing for the opening of a school that the organization helped build in Mataka, Malawi.
 Vicki's acclaimed first film, Men of the Cloth, was initially funded with grassroots contributions and a crowdfunding campaign on Indiegogo; it premiered at a prestigious film festival and was shown at the Association of Sewing and Design Professionals annual conference, the American Sewing Guild annual conference, and other national sewing events. The Little Dress is also likely to resonate with those who sew.
"Ultimately, The Little Dress is a narrative about female solidarity," Vicki says. "It's about one woman's vision, one amazing volunteer in the twilight of her life, one beautiful homemade dress, and the little girl who receives it to help her on her life's journey."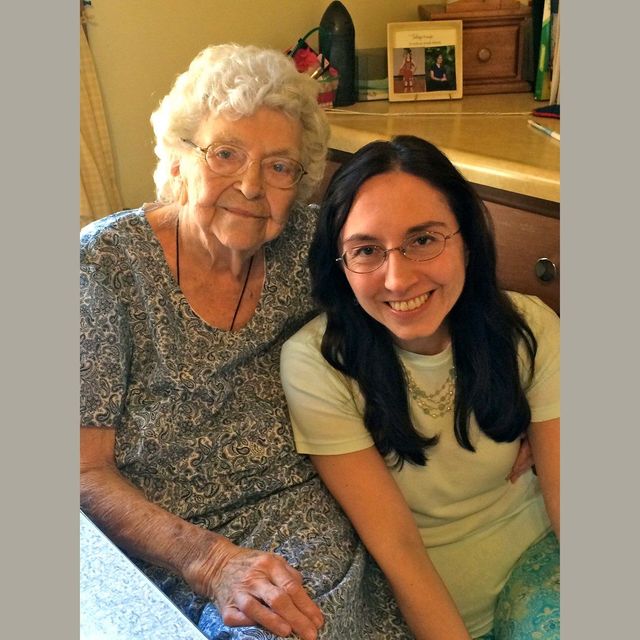 Lillian Weber, left, meets with The Little Dress filmmaker Vicki Vasilopoulos.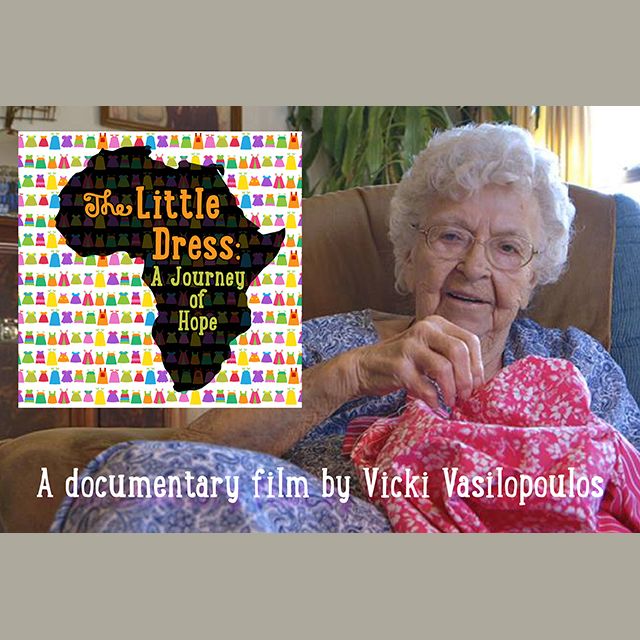 The upcoming documentary The Little Dress: A Journey of Hope shares the inspiring story of Lillian Weber, who is 100 years old and has sewn more than 1,000 dresses for needy African girls.