Tip: Divide Measurements Easily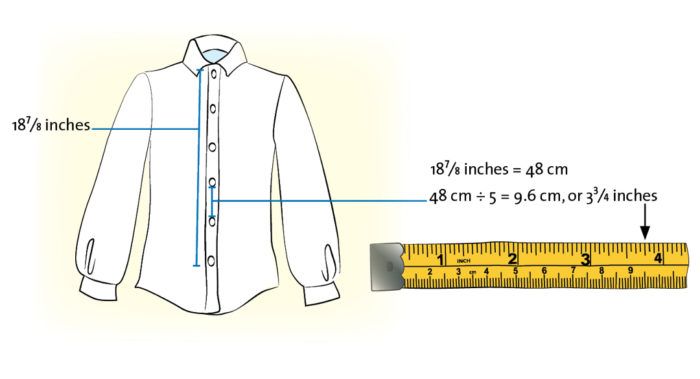 This reader-submitted tip was originally featured in Threads #185 (June/July 2016).
Sometimes in pattern drafting or other sewing tasks, you have to divide a measurement into equal intervals. It's time-consuming to divide fractions of inches and then convert the answer back to a "measurable" fraction in eighths or sixteenths of an inch, so I discovered a quicker, easier method. I find the full measurement in inches on my tape measure. I mark it with my fingertip, then carefully turn the tape measure to the metric side and note the equivalent length in centimeters. (Some tape measures have imperial and metric scales on the same side of the tape.) Because it is easier to divide decimal numbers, I divide the metric length by the desired number. I then locate that answer on the tape measure and its inch equivalent on the other side of the tape. The only math I need to do is one division problem, which is easy to calculate in decimals. The process is faster and less error-prone than working out several fraction-to-decimal conversions.
-Evangelina Vera, San Antonio, Texas


---
Submit your tip!
At Threads magazine, we're always on the hunt for smart tips, tricks, and solutions to help you sew smarter, better, and faster. Send us your great ideas for a chance to be featured in the magazine's Tips department.
Tips can be emailed directly to Threads or mailed to Threads Tips, P.O. Box 5506, Newtown, CT 06470.
We pay for any tips published in our magazine.