10 Patternwork Skills
Key refinements for accurate sewing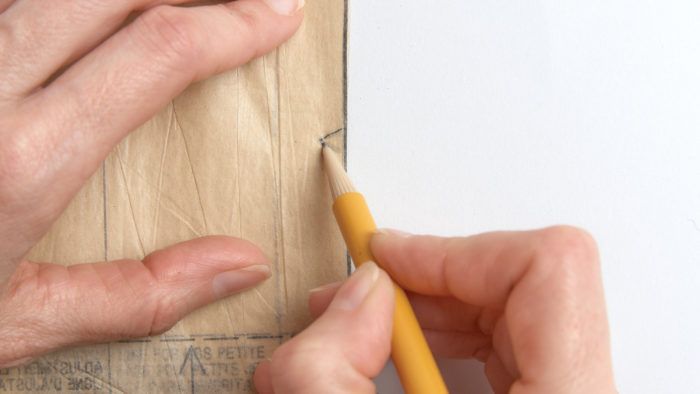 When I fit a garment, I work with a muslin on the body. Then I transfer the changes from the muslin to the original paper pattern. Some sewers like to dismantle a fitting muslin and use the fabric pieces as a pattern. I don't because the muslin can become distorted during the fitting, sewing, and disassembly process.
A paper pattern is stable and, therefore, delivers the precision I demand of a pattern, especially one I'll want to use more than once. First, I walk and true all the seamlines on the original pattern, to ensure they are accurate. After I've finished a fitting and made my adjustments to the paper pattern, I refine it to correct any issue that occurred through transferring fit changes from muslin to paper.
This work requires nothing more than a pencil, a straight ruler, and a curved ruler. It's worth the time. Your pattern will be more accurate and easier to sew. You'll also gain confidence in handling commercial and self-drafted designs and will be able to make changes for fit or style.
Think seamlines
When doing your initial pattern-work, ignore the seam allowance and cutting line. For beginners, I suggest cutting off the seam allowances. I do this, too, when I'm tackling an intricate or confusing patternmaking issue. Modify and correct all the seamlines, then add the seam allowances.
Draw the seamlines on the patterns if they're not provided. Use a ruler to ensure the seamlines are accurate and precise. Imprecision in your pattern-work means you have more to question when sewing the garment. I keep my patterns true to 1/16 inch; many sewers find accuracy to 1/8 inch works well. A see-through ruler with a 1/8-inch grid also has edge markings at 1/16-inch intervals, so it's easy…
Start your 14-day FREE trial to access this story.
Start your FREE trial today and get instant access to this article plus access to all Threads Insider content.
Start Your Free Trial
Already an Insider? Log in