Redesigning Sleeves, Part 1: Developing the Sleeve Sloper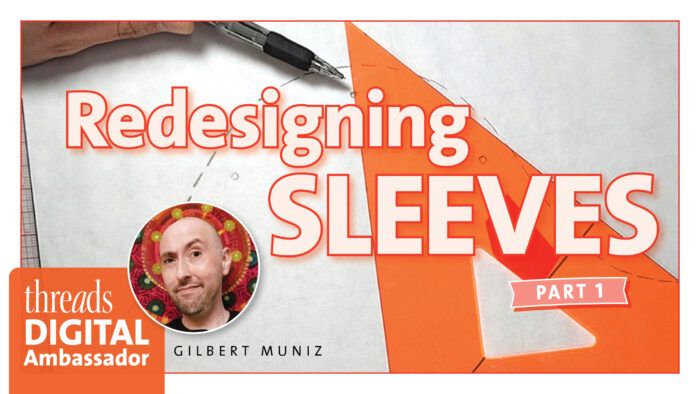 In this series of posts on redesigning sleeves, I'm going to show you how to transform a simple sleeve into a variety of designs. I'm not going to cover basics like bishop or leg-of-mutton sleeves. Instead, I'll be focusing on more unusual sleeves and armhole treatments that lean toward design theory rather than convention. Within these studies, you can learn how to design sleeves outside the standard commercial pattern fodder.
Needed supplies
• A commercial pattern
• Mechanical pencil
• Tracing paper or paper you can see through
• Oaktag or poster board
• Paper scissors
• Triangle with one right angle, or L-square
• Ruler
What is a sloper?
To begin, we need to define a term that is often misunderstood. To create the various designs in this series, we need to create a sloper. A sloper is a master template for drafting style lines in a two-dimensional space. This can be done on a computer or, as I demonstrate, on paper. Slopers aren't necessarily drafted from pure measurements. You can take any commercial pattern that is relatively simple and transform it into a sloper. Slopers have no seam allowances and have all fitting issues fixed prior to manipulation. Seam allowances are added only after all manipulations have been completed. Since this series focuses on the sleeve, I'm not going to cover any other aspect of slopers.
Also, I am going on the assumption that the pattern you choose to work with for this series fits you correctly. I will not be covering any fitting issues beyond the chosen sleeve designs. We are creating a sleeve sloper from the sleeve pattern piece. The rest of the pattern will remain intact. It is imperative that you test the fit of the garment. Remember: Slopers are only finalized after the fit has been…
Start your 14-day FREE trial to access this story.
Start your FREE trial today and get instant access to this article plus access to all Threads Insider content.
Start Your Free Trial
Already an Insider? Log in