Luxury Loungewear Challenge: 5 Mix-and-Match Separates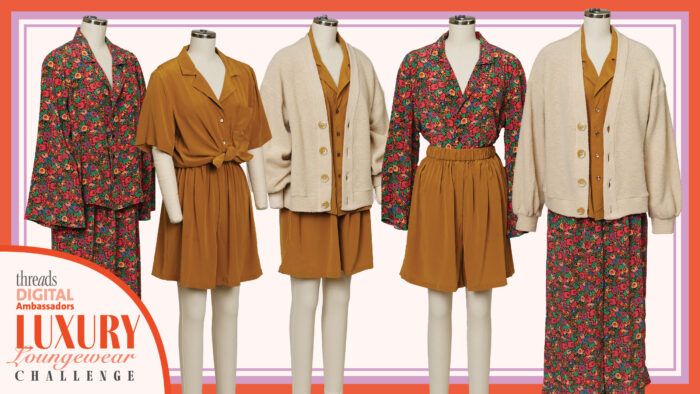 When my family moved from the Bay Area of California to Paris, France, a few years ago, I read a warning from another American expat that Parisians take getting dressed seriously. He did not mean that all Parisians dress as though they are participating in Fashion Week every day. Rather, an American might be surprised to find when they take out their trash or drop their children off at school, they'd get quizzical looks from neighbors if they were wearing pajamas, sweats, or workout clothes, as is common in the United States.
Soft fabrics and elastic waistbands
While I was happy at first to have an excuse to come up with creative new ensembles for even the smallest errands, it has become less practical to get dressed in my typical everyday clothes—which involved lots of buttons and zippers—as we have gone in and out of various lockdowns since the beginning of the pandemic in 2020. I have since incorporated more soft fabrics and elastic waistbands into my sewing projects, while still choosing fabrics and patterns that make me feel less like I'm wearing pajamas in public.
A five-piece ensemble from three patterns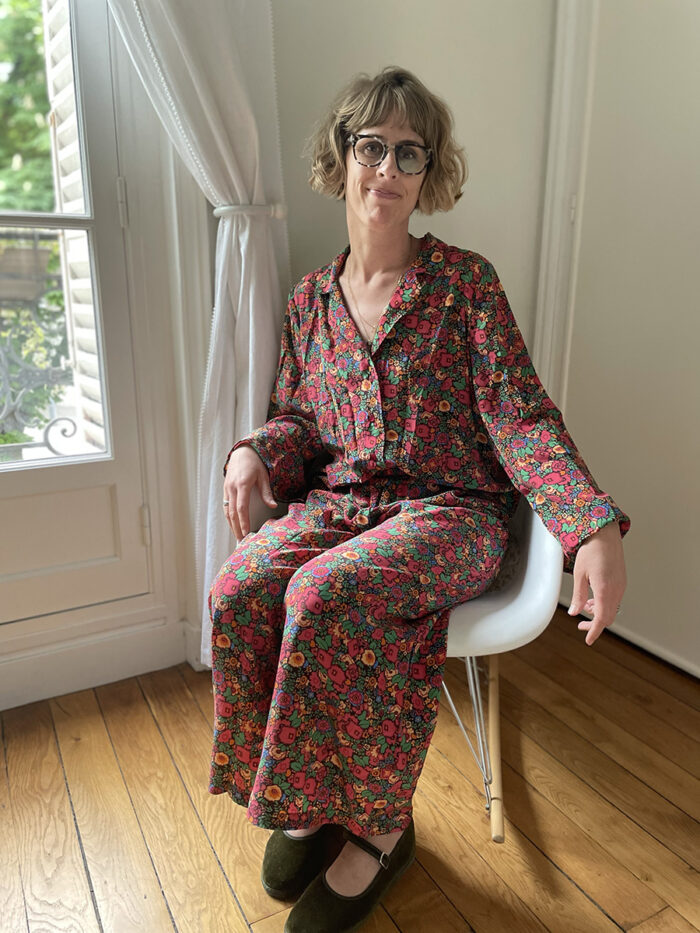 As I approached this luxury loungewear challenge, I immediately envisioned a marriage of my laid-back California roots with a high-fashion, Parisian twist. I knew that I wanted to create an ensemble that I could wear around the house, but still be able to throw on a pair of nice shoes and a handbag so I could go out wearing those same clothes.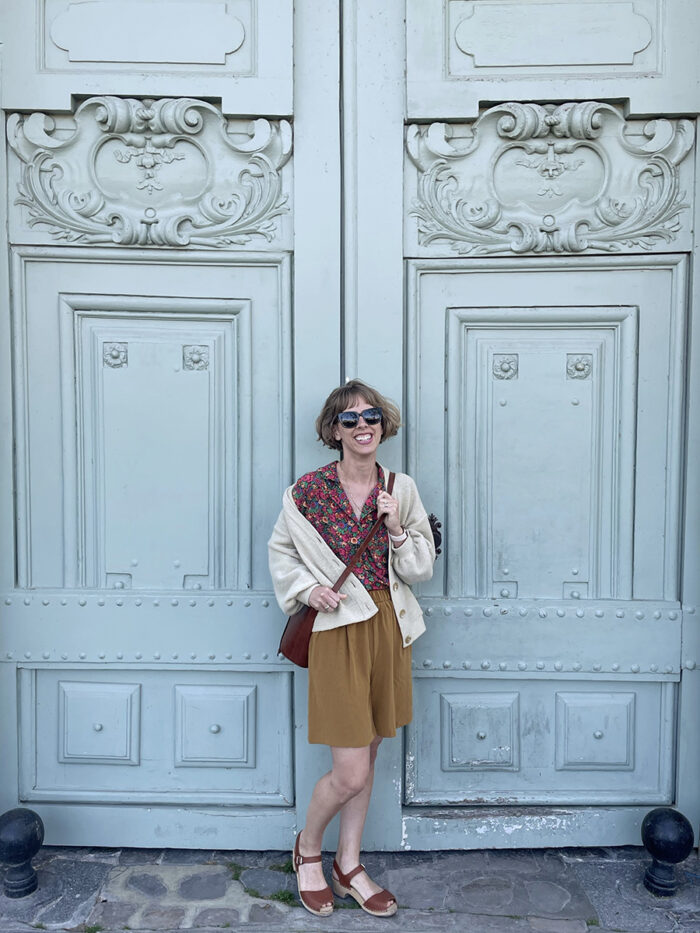 To achieve this aesthetic, I used the Gilbert Top pattern by Helen's Closet Patterns for a long- and short-sleeved top, and for coordinating shorts and pants I used the Ninni Culottes pattern by Named Clothing.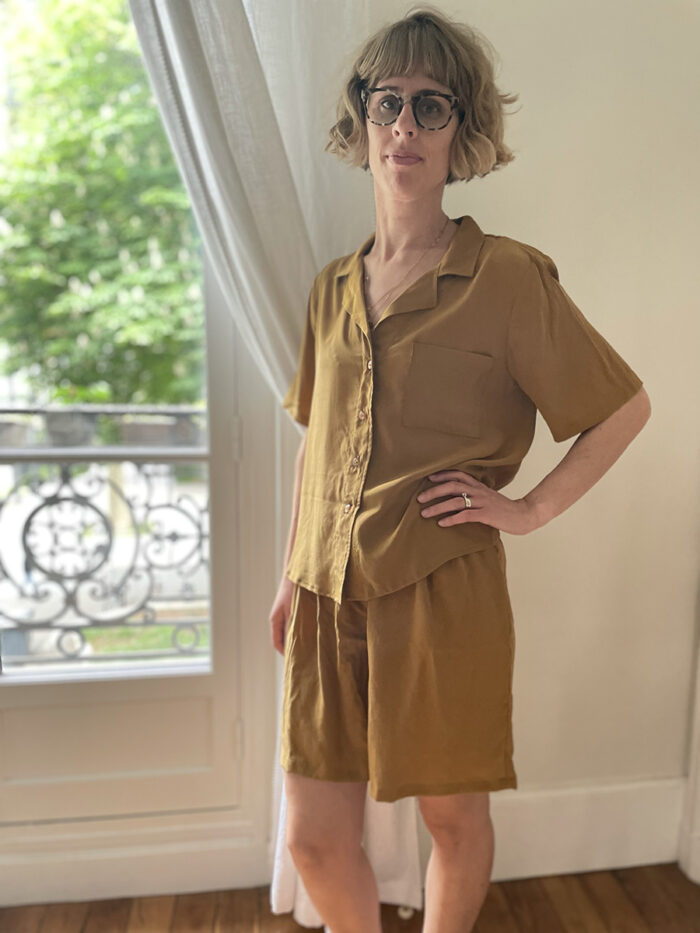 To soften the look I wanted a cozy outer layer to pair with these mix and match garments, and the perfect match was the Marlo Sweater pattern by True Bias.
Choosing luxe fabrics
Once I chose the patterns, I set about looking for fabric. I knew that I wanted to use silk, but was not committed to a certain color or design. I did want to make sure I chose fabrics that would coordinate, as I wanted to be able to mix and match my pieces. Fortunately, I have access to a wide variety of fabric shops here in Paris and my favorite shop, Sacrés Coupons, carries deadstock fabrics from haute couture design houses for incredibly low prices. I chose a beautiful caramel silk crêpe de Chine and a bright floral silk crêpe de Chine for the pants, shorts, and shirts. Sacrés Coupons sells their fabrics precut in a variety of lengths—ostensibly in order to prevent individuals from re-creating a brand's garments in large quantities and selling them as their own designs—and I was lucky enough to find two coupons (remnants or offcuts) of silk in the lengths I needed. The cardigan was a last-minute addition to my ensemble when I found a deeply discounted cut of a cozy wool-blend knit fabric that coordinated with the silks.
Planning alterations
Though I was sewing loungewear, "relaxing" is not the word I would use to describe the planning stages for this project. I was planning on multiple modifications for each pattern, plus I was working with silk, which I had never sewn before. When I was finally done researching and gathering materials and was ready to start sewing, I began with the Marlo Cardigan, as it was the most straightforward piece of the ensemble. The fabric I used was a stable wool/polyamide knit blend, which made it easy to work with. I sewed almost the entire sweater with my serger, except for when I attached the neckband. I have sewn several True Bias patterns before and know their block well; plus, the Marlo is supposed to be oversized, which gave me room for error in sizing.
A sleeve modification
I decided to change up the pattern by slashing and spreading the sleeve pattern piece to create a fuller sleeve. This is a fun and easy hack that elevated the casual drop sleeve of the Marlo.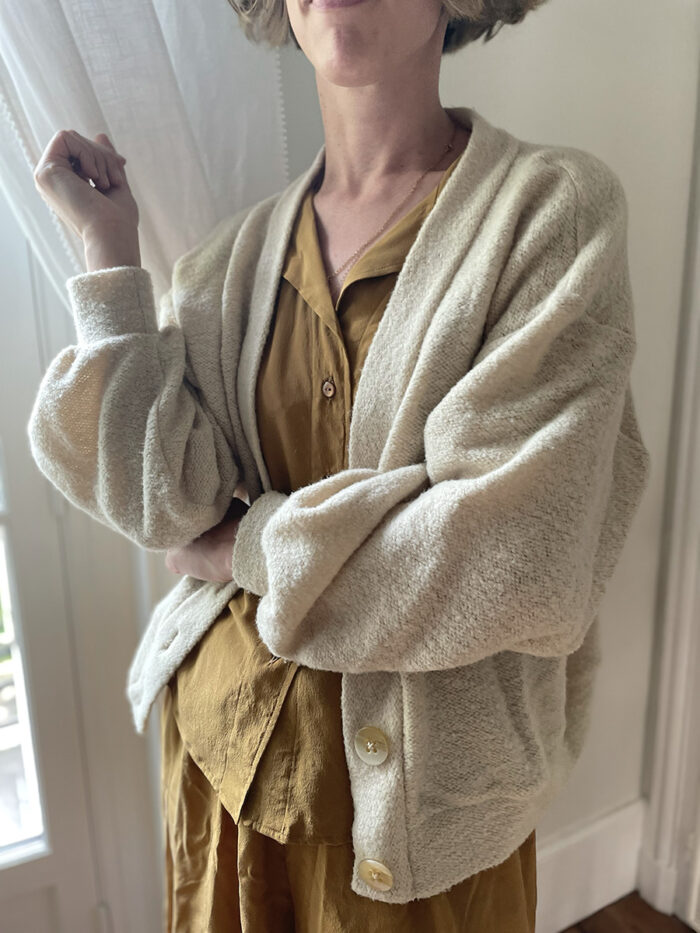 First, I traced my sleeve pattern piece onto another piece of paper. Between the front and back sleeve notches, I drew several equally spaced parallel lines from the sleeve cap to the hem.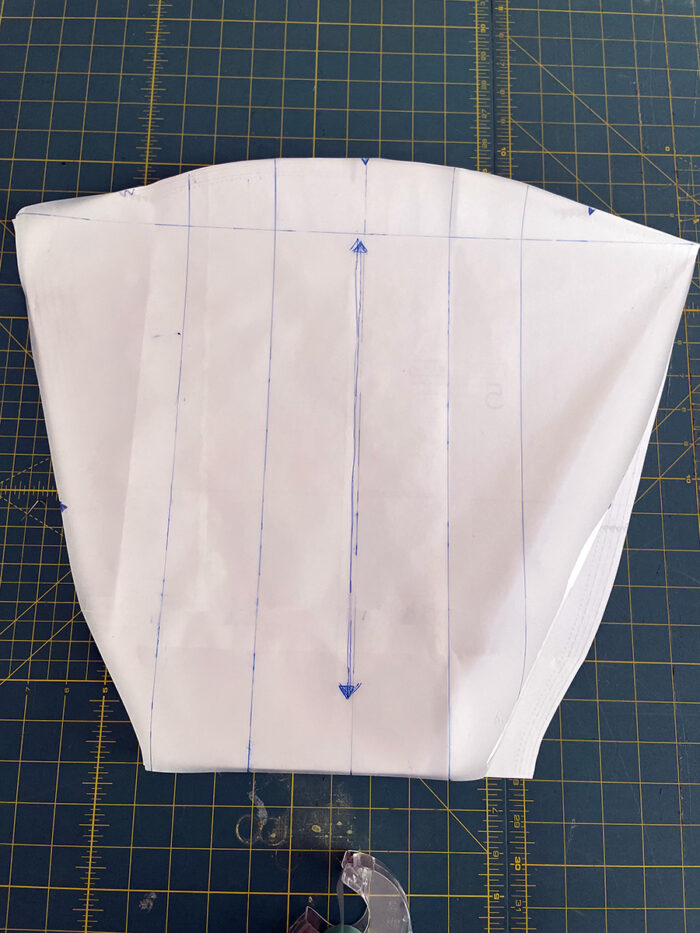 With paper scissors, I cut the lines from the hem until just before the end of the paper at the sleeve cap. I wanted a little bit of paper left to create a hinge for the strips.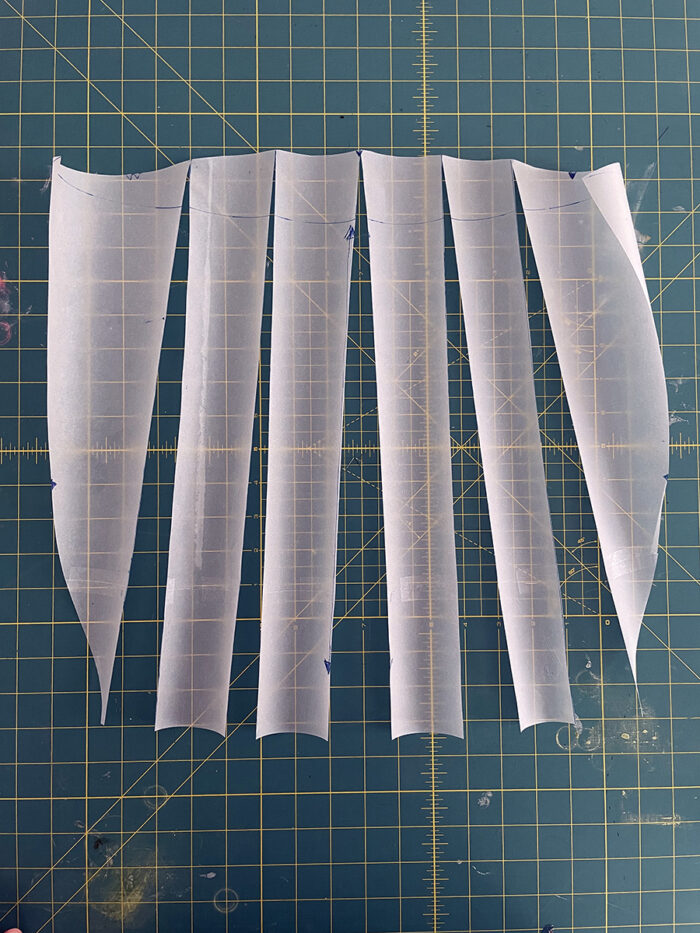 I spread the strips so that they were equally spaced apart on top of a new piece of paper. The more space between the strips the fuller your sleeve will be; I usually choose the width based on how much room I have on my fabric. I taped my strips to the new piece of paper and traced the new pattern.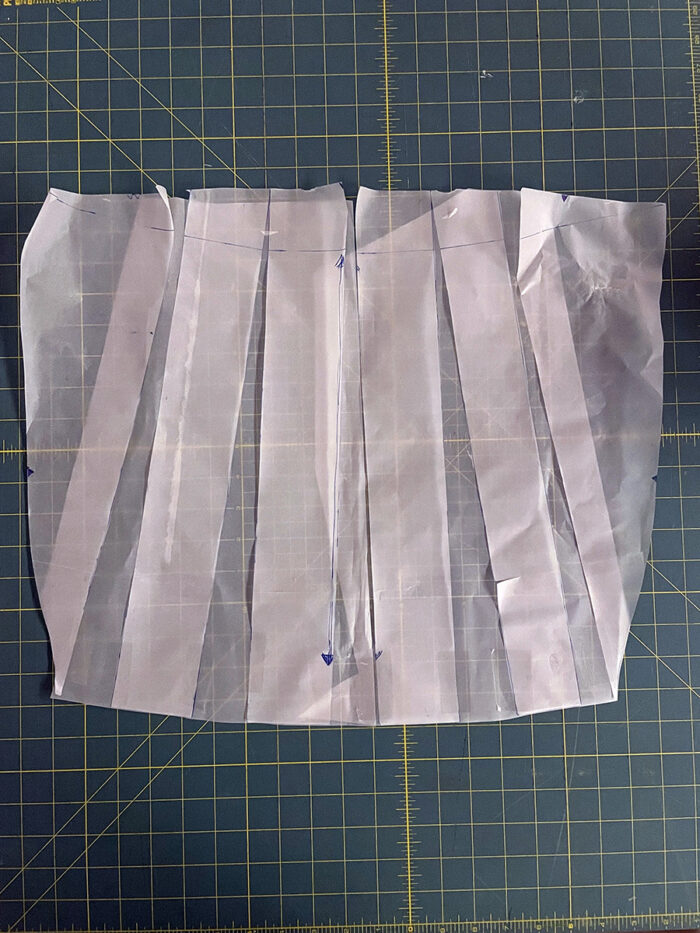 I then followed the normal sleeve construction, with the addition of gathering the hem of the sleeve before attaching it to the cuff.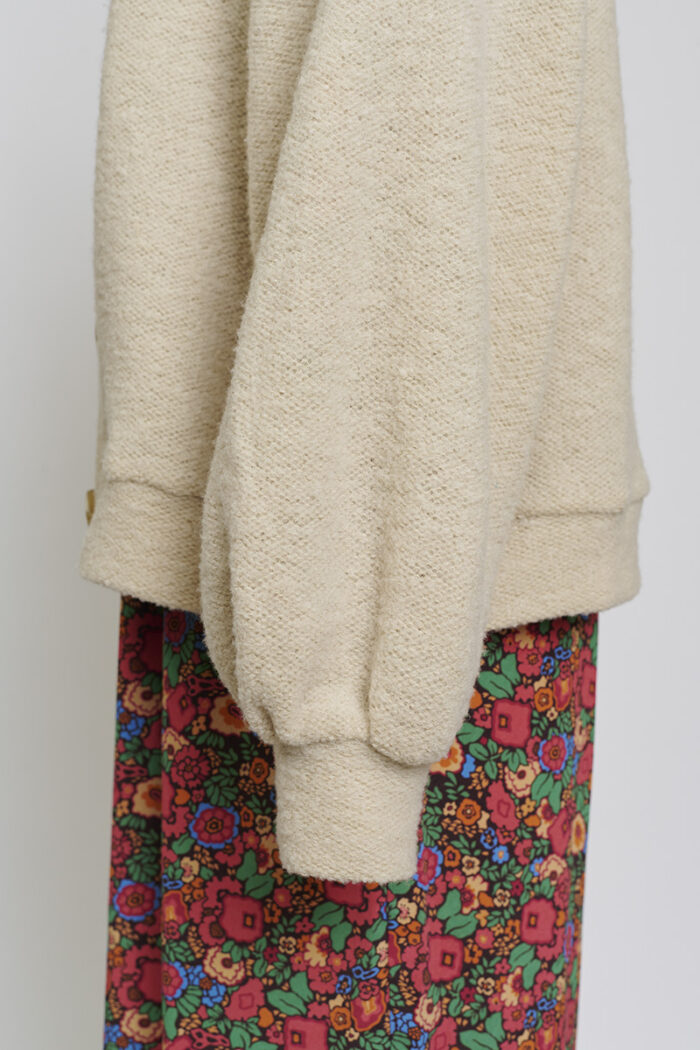 Testing the shorts
After finishing the sweater, I tackled the shorts and pants. I had sewn the Ninni Culottes before, but not as shorts, and I was not sure how the proportions would look. I found leftover rayon challis in my stash that matched the weight of the silk and made a test pair of shorts. I ultimately left the pockets included in the original pattern off the final product, as the pocket bags were too heavy for the lighter silk and gave the hips more fullness than I wanted. I also graded a size down from my measured size at the hips to slim down the legs a bit, for both the pants and shorts versions.
French seams and hem facing
For a nice clean finish with the lightweight silk, I decided to use French seams on all seams but the crotch curve, where I used bias binding to finish the curved seam.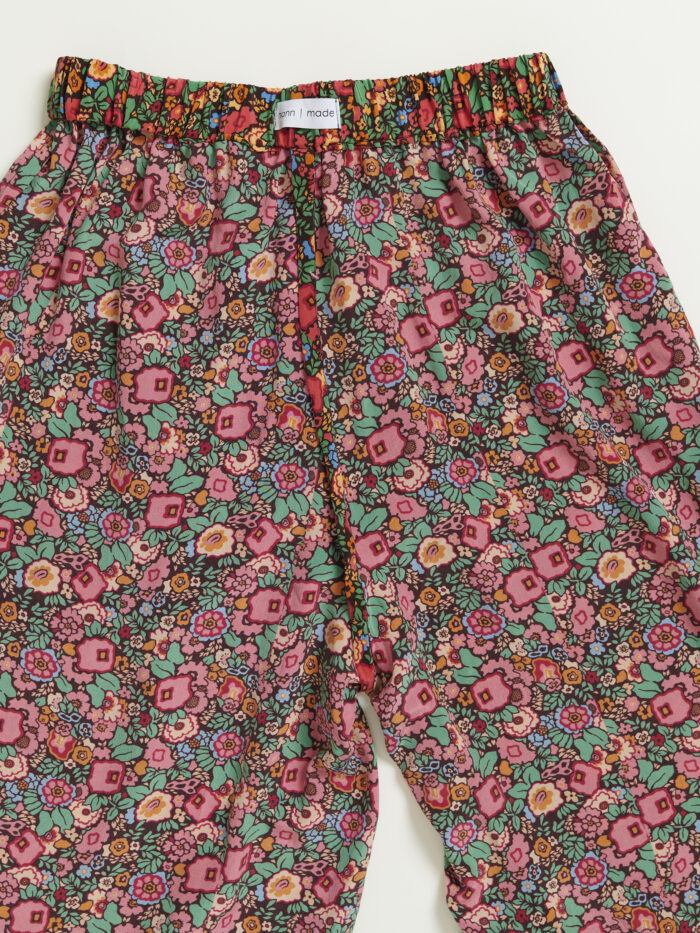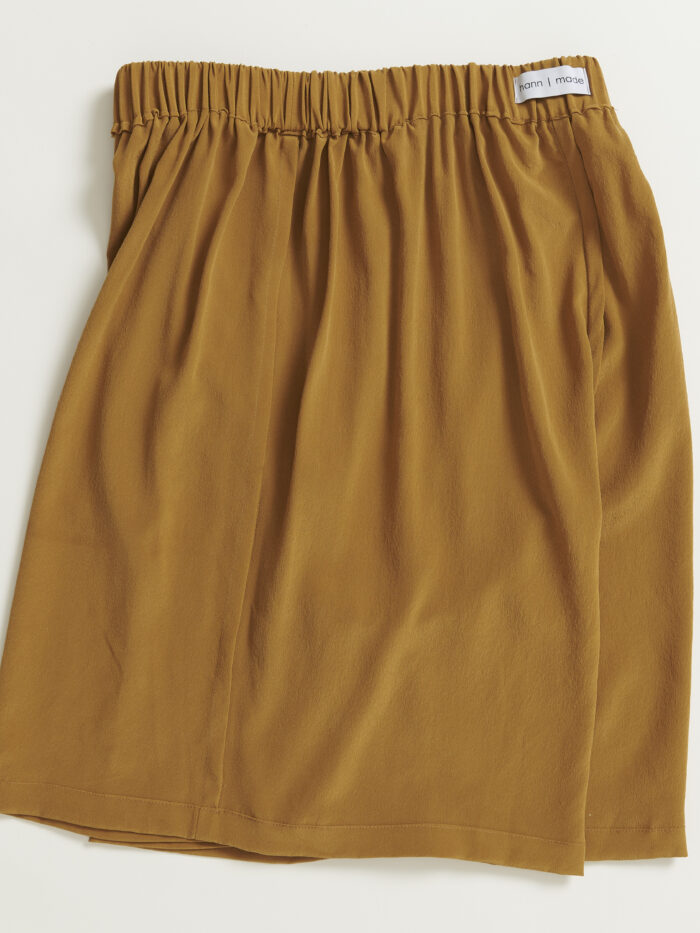 The only bump in the road I encountered with the pants was when I didn't have quite enough fabric to cut my pants long enough for my height, so I ended up creating a facing for the hem. I'm 5 feet 9 inches and often have to lengthen bottoms, so this is a technique I have used a lot. I wasn't sure how this technique would fare with a lightweight fabric like silk. Thankfully, the pant legs didn't get too distorted with the extra weight at the hem.
Fitting changes
Finally, I sewed up my Gilbert Tops. This was probably the most time-intensive part of the challenge as I had to do some fitting modifications, including sizing up and removing the bust darts, which I will cover in another post. I created a muslin out of leftover rayon scraps from old projects before I cut into my final fabric, which I'd recommend for anyone working with silk for the first time (or even the second or third time). After working through my fitting modifications, I ended up with perfectly oversized tops that do not scream "pajamas!" and can pull double duty as loungewear and everyday wear.
This loungewear challenge was to make a garment that is cozy to wear at home as well as stylish enough to wear in public. With any sewing project, there is always uncertainty whether the final product will match your vision—if it's a garment destined to be pajamas or something else you're going to wear only at home, the stakes are lower because fewer people will see it if it didn't turn out exactly how you'd imagined. But after the time I spent on adjustments and practice garments, I was pleased to see how well these garments coordinated and that I could style them with accessories that made them appropriate for wearing outside. Now that it's warmed up here in Paris and restaurant terraces are open, I will be ready to get dressed for a night out.
---
Editor's note: To find out more about the five-piece ensemble Hannah created for the 2022 Threads Digital Ambassadors' Luxury Loungewear Challenge, read her first installment here. You can also see what her three challengers created and who was voted the favorite here.
---
Photos: courtesy of Hannah Hamill, except where noted.