2022 Luxury Loungewear Challenge Winner Chosen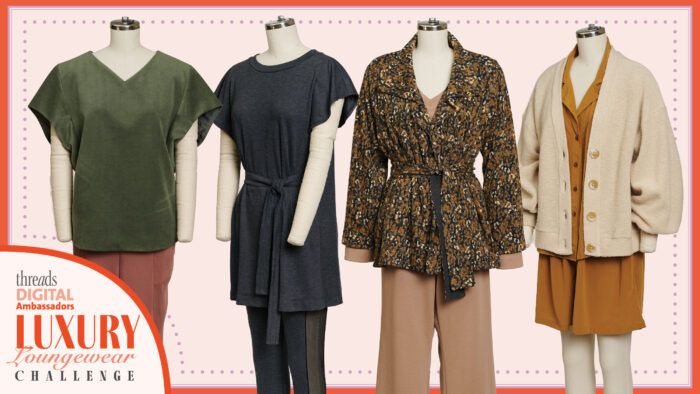 Congratulations, Threads Digital Ambassador Pamela Howard! Threads fans near and far selected your ensemble as their favorite in the 2022 Threads Digital Ambassadors' Luxury Loungewear Challenge, according to our vote tally.
Threads challenged Pamela and fellow Digital Ambassador Gilbert Muniz, along with guest ambassadors Melissa Fehr and Hannah Hamill, to create luxury loungewear. Their interpretations needed to be super comfortable for relaxing at home, yet put together and stylish enough for activities in public.
Pamela says she is honored to be chosen as the winner.
The winning interpretation
The overachiever in Pamela was clearly at work when she created her luxury loungewear entry. The five-piece ensemble, a knit garment collection really, consists of two jackets, matching pants, a long-sleeve V-neck top, and a matching shell to wear under either jacket.
She faced stiff competition from the three challengers. All offered well-thought-out and beautifully constructed casual garments. See their creations below, and find out some of the techniques they applied.
A sweepstakes winner, too
A sweepstakes winner was also randomly drawn from those who cast votes for their favorite challenge entry. The winner was notified and deemed eligible, according to the official rules. She has been mailed the prize package:
•. Kenneth D. King's Smart Fitting Solutions (The Taunton Press, 2018);
•. 2021 Threads Archive (USB), a digital collection of Threads magazines from issues #1 through #216.
The luxury loungewear entries


See the Luxury Loungewear Challenge ensembles here.
Pamela Howard created a five-piece collection of tailored knit garments. In a second post, she explains how she lined her sweater knit jacket and created a top with a smooth V-neck edge using binding and mitering the center front.
Hannah Hamill also sewed a five-piece mix-and-match ensemble. She made hers of silk crepe de Chine and a wool-blend knit. Hannah offers tips for preparing and sewing with silk as well as fitting loungewear while removing a pattern's darts.
Gilbert Muniz designed a two-piece outfit featuring a loose-fitting, flutter-sleeve top and leggings, with power mesh side-seam strips. He shares his tips for stabilizing knit seams here.
Melissa Fehr made separates using sustainably produced, luxe fabrics she purchased from small businesses. She discusses some of the details she included in her ensemble, such as pickstitching and flat piping here.