Free Twinkle Sews Dress Pattern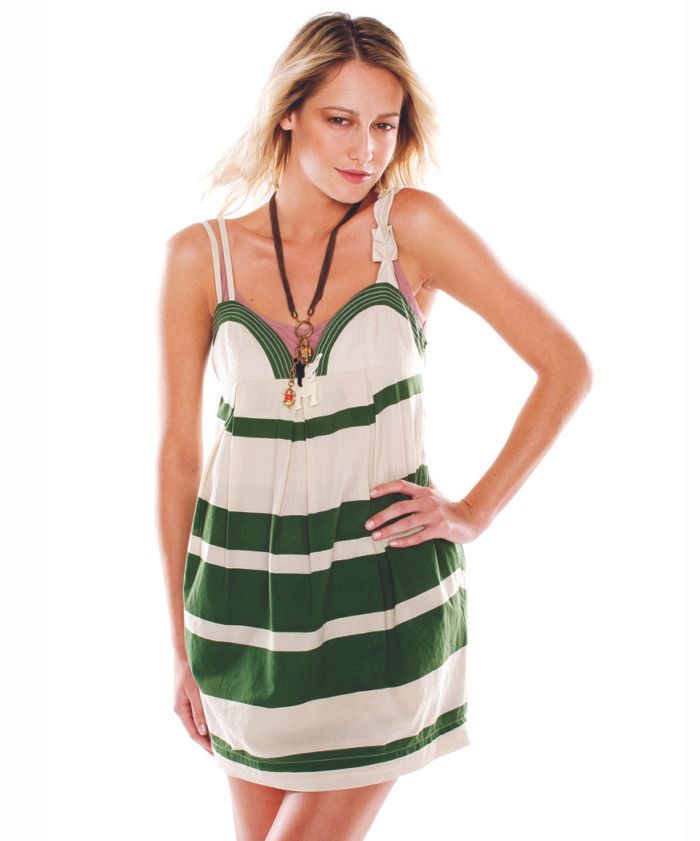 In the Spring '10 issue of SewStylish, the editors were able to catch up with Wenlan Chia of Twinkle and chat with her about her sewing and design inspirations. Chia has become well known among the sewing and knitting communities for her amazing how-to books featuring her stylish designs. Here we feature the Love in the Afternoon dress from her latest book, Twinkle Sews (Potter Craft, 2009)

More free patterns:

• How to Sew a Versatile Sundress
• How to Make a Custom Coat
• How to Upgrade a Basic Tee
With its form-defining topstitching (albeit with a bright, sporty twist), cocoon shape, and origami-inspired detail, this dress can take you from a country club to a cocktail party. The bust band is cut from a wide green stripe and embellished with khaki topstitching. The asymmetrical shoulder straps make an interesting focal point. Here the dress is made from a striped fabric, but a solid color would be a great backdrop for the frock's shape and would make the origami folds really pop. Make it in ivory eyelet or cotton pique and wear with Sabrina heels for a cool, ladylike summer look.
For more on Chia, check out SewStylish Spring '10 for our interview with this talented designer on sale now.
To make the dress, download the instructions and the pattern in your size. For help finding your size, measure your bust, waist, and hips:
Size 0: Bust-32″, Waist-26″, Hips-35″
Size 4: Bust-34″, Waist-28″, Hips-37″
Size 8: Bust-36″, Waist-30″, Hips-39″
Size 12: Bust-38″, Waist-32″, Hips-41
Size 16: Bust-40″, Waist-34″, Hips-43″
Print out the pattern in your size on 8 1/2″x 11″ paper. Tape the pieces together into a grid, matching the circle and number on each corner, and then cut out the pattern pieces.