Last Minute Thanksgiving Ideas
The bustle of the Thanksgiving holiday doesn't leave much time for garment sewing, but here are some quick fixes that will help your holiday run smoothly. Here are a few last-minute decorating ideas, cooking fixes, and some ways to save on your holiday shopping.
Holiday Decorating
from CraftStylish.com
Make a Snowstorm with a Curtain of Whimsical Flakes
Thanksgiving Recipes and Emergency Fixes
from FineCooking.com
Fine Cooking magazine shares everything you need for a flawless feast this year. You can also find menu makers, and some emergency fixes for when those recipes don't exactly work out as planned.
To the Rescue! Emergency Fixes for the Top Ten Thanksgiving Disasters
Top Turkey Recipes for Thanksgiving
Ideas for Thanksgiving Leftovers
Holiday Shopping
Start your holiday shopping early this year from the comfort of your computer. Find the perfect gift for anyone on your list during our holiday sale. 
Save 25%
The Thanksgiving holiday represents the start of the holiday shopping season.  Save 25% and receive free shipping in the Threads magazine store without leaving your home.
Gift Guide
The Threads Holiday Gift Guide features our 10 Best Sellers, 10 Editor's Picks, and 10 great gifts under $20. We have everyone covered from crafters to cooks, and even something for the builders and woodworkers too.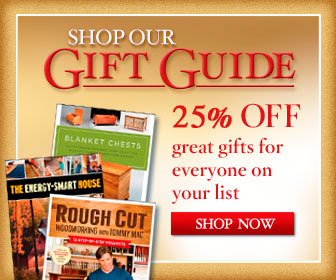 Sew up some quick napkins, or just decorate some you already own.
Get the latest including tips, techniques and special offers straight to your inbox.