Why Don't You . . .? Take a Housecoat Out For a Spin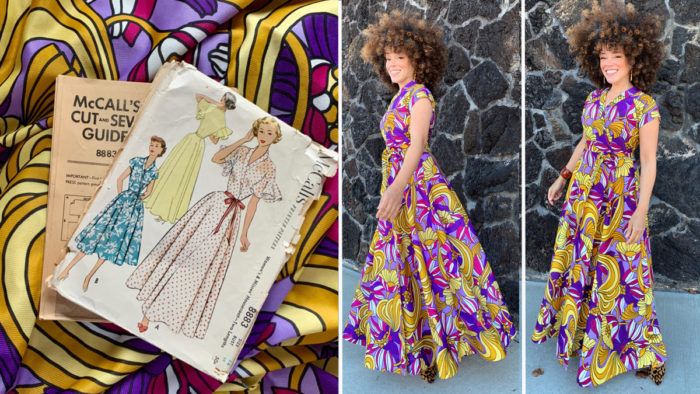 Welcome to 2021, sewing friends. It's time for another dose of whimsy in this upside-down world, with the next installment of our "Why Don't You … ?" challenge, in which I'm reimagining some of Diana Vreeland's wildest suggestions from her 1930s advice column for Harper's Bazaar. Here's our January gem: Why don't you . . . turn an old ermine coat into a bathrobe?
Yes, Ms Vreeland. Absolutely. I am all about marrying a pattern to an unlikely fabric, or rocking a garment to an unexpected occasion. And what occasion calls for a fancy bathrobe more than where we currently find ourselves? Better yet, why don't you . . . find a vintage housecoat pattern, and turn it into something you'd fashionably answer the door in? Maybe even venture outdoors in—once we're back to enjoying the outdoors? (And, having no yardage of weasel handy, let's just skip the ermine altogether.)
Thrift shop finds
The thrift store was my destination for the supplies for this challenge, and did it ever provide.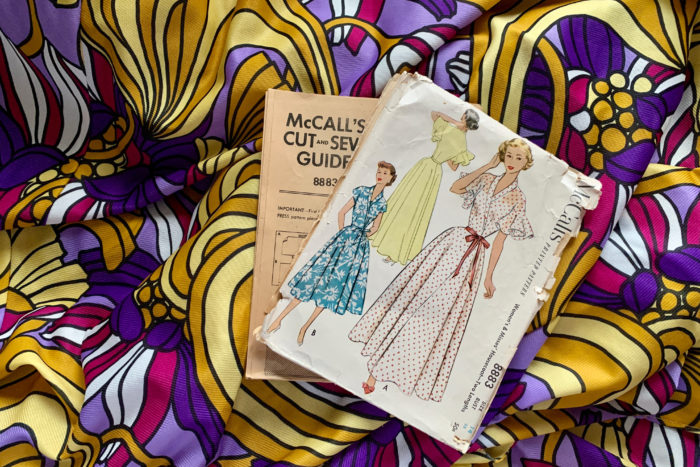 My favorite thrift stores are the indoor market kind, the type that have endless booths to browse. It's overwhelming to some, but for me, each booth is like visiting a favorite room in someone else's home.
One of my most beloved markets has a booth near the back that is most certainly curated by a sewing enthusiast—or just someone who knows beauty when they see it. It's like walking into a small, well-kept closet: a compact rack of vintage clothing, tiers of jewelry, and baskets of vintage patterns. I've found many gems in that tiny 4-by-4-foot space, including a wool lap blanket emblazoned with a horse head, a Souré beaded purse, and a length of pink Schiaparelli yardage.
On my last…
Start your 14-day FREE trial to access this story.
Start your FREE trial today and get instant access to this article plus access to all Threads Insider content.
Start Your Free Trial
Already an Insider? Log in