Pattern Roundup: Georgette Fabrics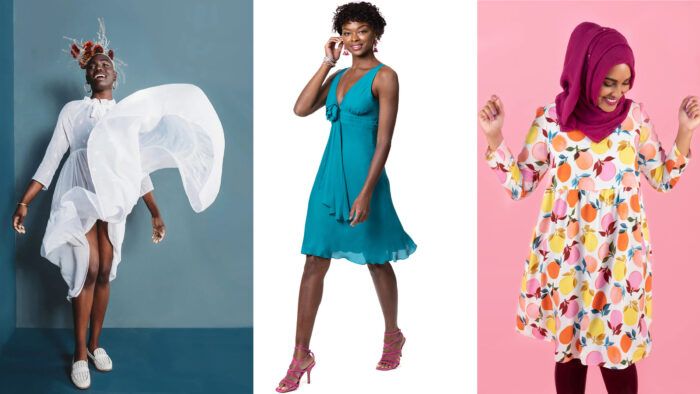 For drape, flow, and a hint of sheerness, georgette is a stylish and classic choice. After featuring this lovely fabric in Threads #218, Summer 2022, we've pulled together some of our favorite patterns suitable for georgette.
Many of these designs call for a narrow hem. Try this easy machine-sewn method, which adds a couple of extra rows of stitching for weight and fluidity. A hand-rolled hem is another option if you enjoy meditative stitching.
---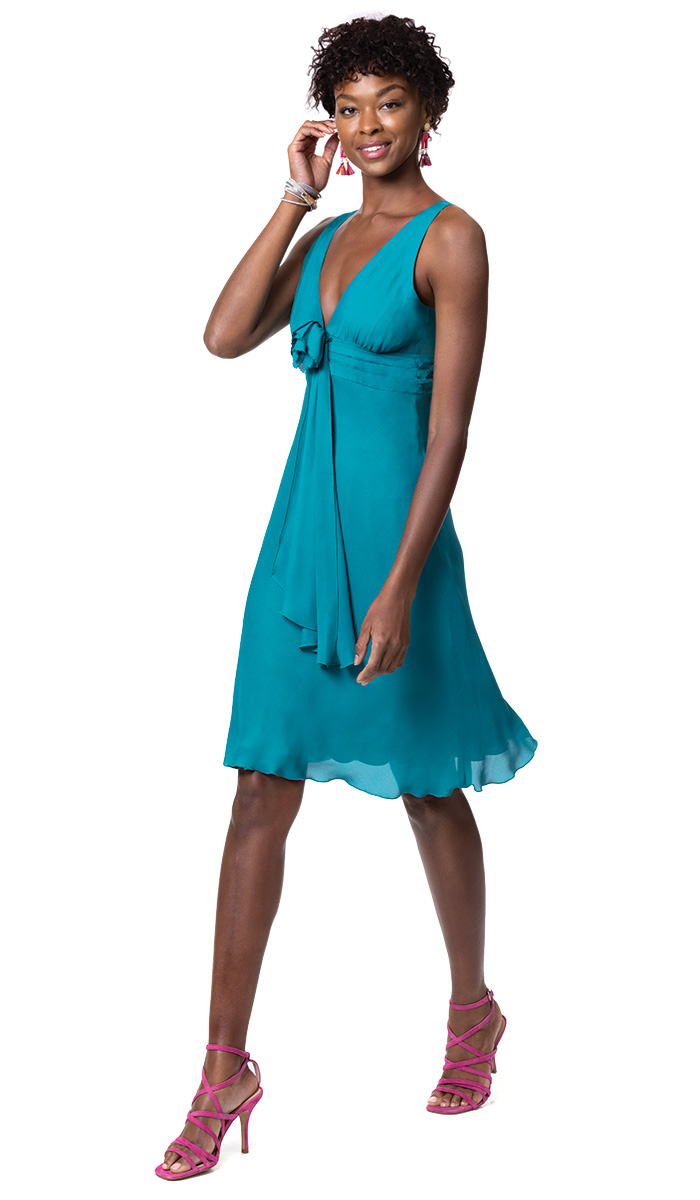 As shown in Threads #218, the Style Arc Angie dress is a bias-cut design, trimmed with a handmade fabric flower. The pattern is available in sizes 4 to 30 (bust 30.3 to 58.25 inches and hip 32.6 to 61 inches)
Another Style Arc dress pattern for georgette fabric is the Asha Dress. This design is a regular fit midi frock with a slightly blouson bodice, shirred waistline, and flowing skirt. 
---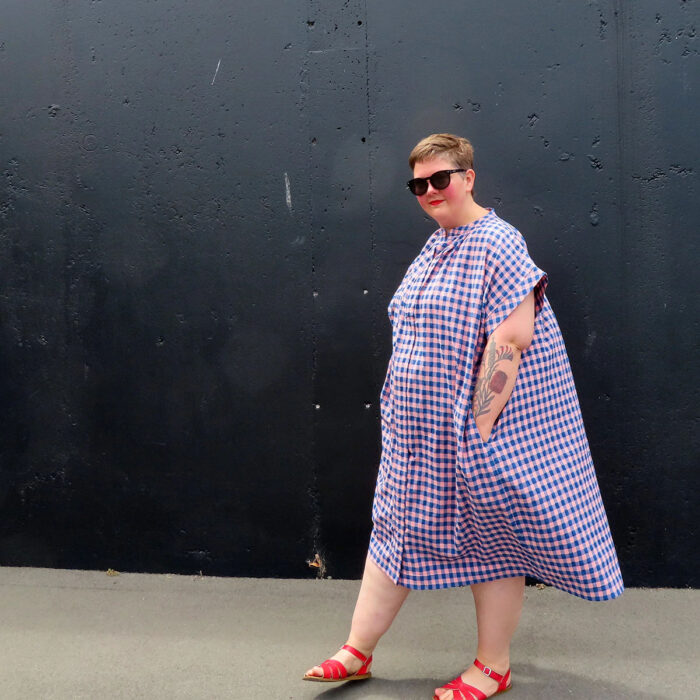 It's true, we like this pattern a lot. It is featured in the profile of Muna and Broad in Threads #216. The clever pocket design makes it much less likely for items you are carrying in it to fall out when you sit down. Sizes A to M (bust 40 inches to 64 inches, hip 41.5 inches to 71.5 inches).
Pronounced hugh-on/hew-on, this shirtdress is ultimately a French artist's smock with a modern twist. The pattern can be sewn as a hip-length shirt or a knee-length dress, both featuring a dropped shoulder, hidden-button placket, and gathers at the neckline and back yoke. Using georgette will give this a dressy look; you may want to omit the pockets in a sheer fabric as they may show through. Sizes range from A through M (bust 40 inches to 65.5 inches, hips 41.5 inches to 73.5 inches). Patternmaker Muna & Broad also offers to grade the patterns up, if you need a larger size.
---

This intermediate pattern for a lined wrap dress includes contrast binding, waistband and ties, and bishop sleeves ending in cuffs with a button-and-loop closure. Play with lining a print georgette in a contrasting solid, or opt for a lining that matches your skin tone. Women's sizes 8 to 24 (bust 31 1/2 inches to 46 inches, waist 24 inches to 39 inches, hips 33 1/2 inches to 48 inches).
---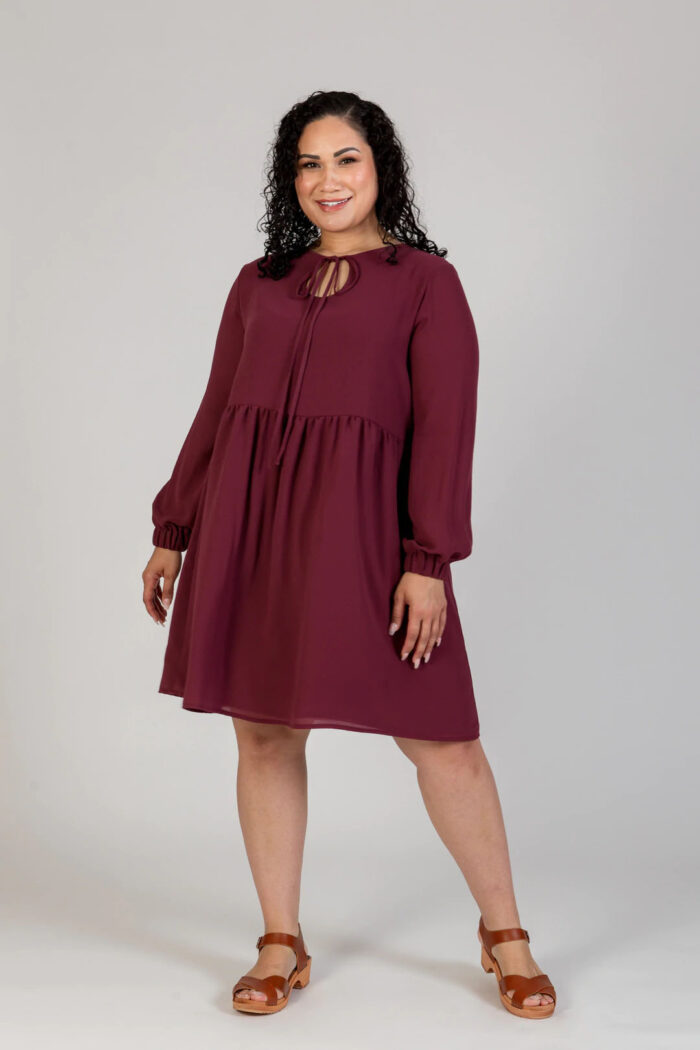 This versatile pattern can be made as a loose-fitting blouse or gathered-waist dress of varying lengths. Features include a keyhole cut-out, ties, and peter pan collar with three sleeve lengths. They make the design possibilities seem endless. You can even choose to make the dress with the keyhole in the front or back. Women's sizes 0 to 30 (bust 32 inches to 56 inches, waist 24 inches to 48 inches, hips 34 inches to 58 inches).
---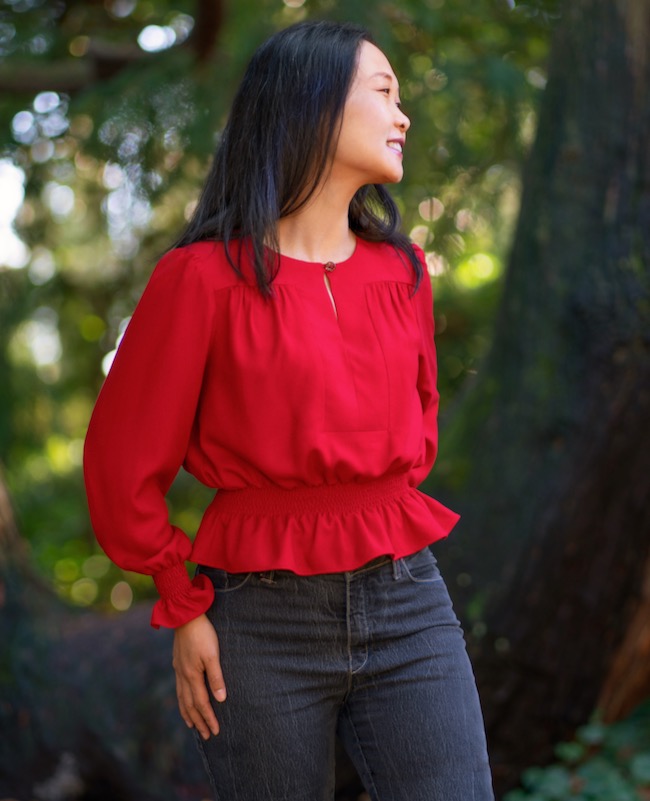 The Azores dress and top has a voluminous fit with a cinched waistline and sleeve cuffs, thanks to rows of shirring. Make the top in a short peplum style or make a knee-length dress. With a lovely neckline featuring loop-and-button closure, front and back yokes, and chest and upper back gathers, this pattern shines in georgette or other flowy wovens. Self-fabric or skin-tone organza makes a good interfacing for the yokes. Women's sizes come in cup sizes A through DD, sizes 00 to 40 (bust 30 1/8 inches to 63 inches, waist 54 1/2 inches to 48 inches, hip 33 1/8 inches to 62 inches).
---

The Indigo top and dress is a piece to add to your wardrobe. Choose classic gathered seams or add a  pretty exposed frilly seam. The bodice is shaped with bust darts, an empire waistline, and a gathered skirt. Make it as a long tunic or a knee-length dress (with pockets) or add another tier for a midi-length dress. Choose from three-quarter flounce sleeves or slim bracelet-length sleeves. You'll want to wear one every day of the week. In georgette, the dress would look stylish layered over a fitted tank dress, or line it with a layer of self-fabric. Women's sizes range from 2 to 30 (bust 30 inches to 60 inches, waist 24 inches to 53 inches, hip 33 inches to 61 inches).
---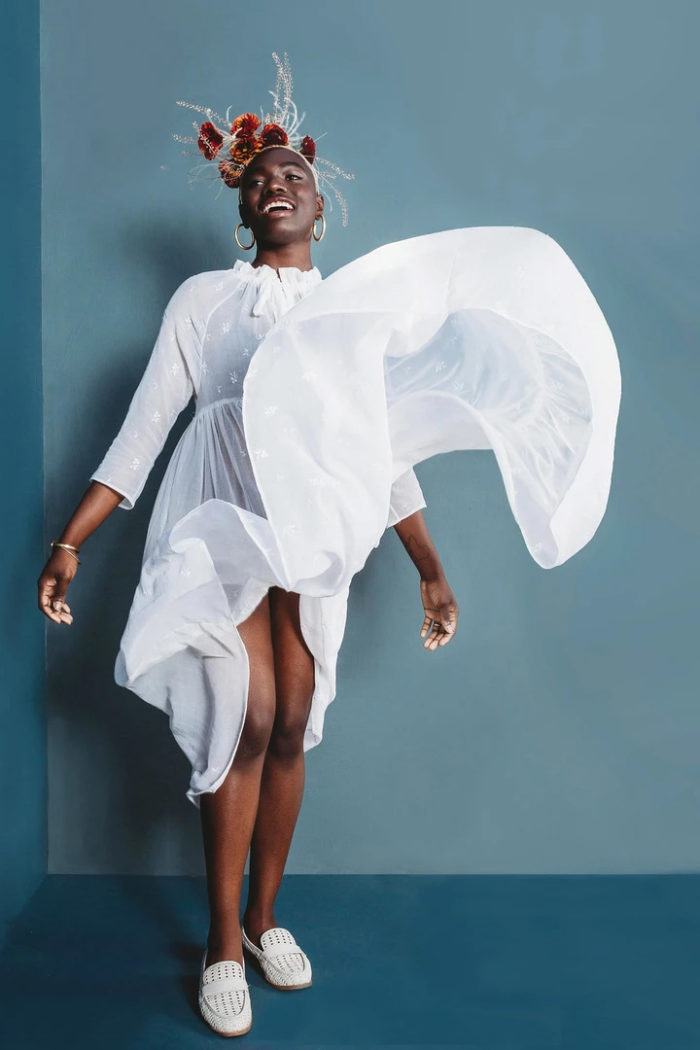 Another staff favorite, this oh-so-flexible cottagecore dress pattern is ideal for beginners. The gown design can be made long- or short-sleeved, with one skirt tier or two—or can be made as a blouse. All versions feature raglan sleeves and a gathered, drawstring neckline. The dress and blouse are best made with woven fabrics. The pattern is available in sizes XS to 4X (bust 32 inches to 54 inches, waist 24 inches to 47 inches, hips 34 inches to 57 inches). Five percent of the pattern sale proceeds go to RAICES, a nonprofit agency that promotes justice by providing free and low-cost legal services to underserved immigrant children, families, and refugees.
---
Have you made any of these patterns? If so, be sure to share pictures in our Readers Closet gallery or tag us on Instagram with #memadethreads.