New SewStylish on Newsstands Now!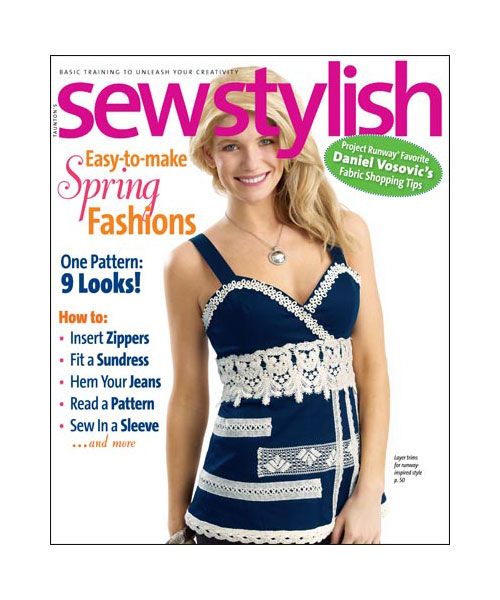 Welcome to the new SewStylish blog and website! Here, we hope to bring you inspiration and techniques to enhance your sewing. SewStylish comes out twice a year, so check back here often for new updates, projects, and tutorials.
If you haven't checked it out yet, be sure to pick up the new Spring '09 issue of SewStylish available now. Featuring designer-inspired projects and industry techniques, this issue is packed with tons of sewing know-how straight from the pros. A value to sewers of all skill levels, SewStylish Spring '09 highlights new looks straight from the runway and classic sewing methods through easy-to-follow instructions and fashion-forward fabrics.
Some of the highlights in this issue include:
Construction Zone: Learn the basics of various sewing techniques including how to insert four types of zippers, tools to improve your sewing, how to choose which interfacings work best for you, and how to create perfect topstitching.
Pattern Play: Get a behind-the-scenes look at how a SewStylish pattern is made at Simplicity. You'll also learn how to read a pattern, how to fit a sundress pattern to your bustline, and how to transform one shorts pattern into three different looks inspired by designers this season.
Tricks of the Trade: Learn industry techniques including three ways to set in a sleeve, how to use industry seam allowances to reduce bulk, how to layer trims for a look that's uniquely you, and finally how to do small alterations at home including how to hem your own jeans and mend tears.
Designer Secrets: Get designer style with Daniel Vosovic from Project Runway as he shows you how to select the best fabrics for your designs, learn how to change one simple jacket pattern into three looks straight from the runway, see how designers this season are combining fabric prints and how to get the look in your creations, and discover how to add unique pockets into your next garment.
Trend to Technique: Get the look of Marc Jacobs this season with a reconstruction project that transforms a vintage vest into a chic, cummerbund-style belt.
Fast Fab: Crafty Chica Kathy Cano-Murillo, author of The Crafty Chica's Guide to Artful Sewing, shows readers how to transform an everyday men's shirt into a super-cute, sleeveless top.
SewStylish Spring '09 is available on newsstands and online here. Stay tuned to our new site for more SewStylish news, contests, and more, or sign up for the free e-newsletter here.