Friday Etsy Roundup: White Owl and Necessity is the Mother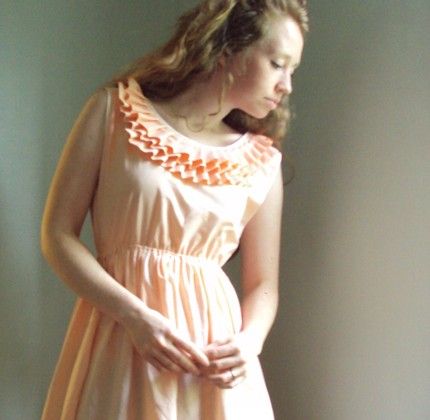 Every Friday we highlight a few Etsy shops that we love and want to share with all of you. Want to see your Etsy shop featured on our homepage? Simply upload photos of your creations to our gallery and tag them with "Etsy" so that we can find you. Know of a great shop you think we should feature? Be sure and share it in the comments below!

My name is Arielle and I live in a little apartment in Pittsburgh, PA with my husband Caleb. I grew up in a tiny town on the Olympic Peninsula. In the past few years my husband and I have roamed quite a bit, and have now come to perch in Pittsburgh.
I've been sewing ever since I can remember. My clothing has sold in boutiques in Seattle and Minneapolis, and can currently be found in Portland, Oshkosh, and Oklahoma City. Designing clothing has always been a matter of survival; growing up I was lucky to pass my recycled cast-offs as chic and sensible. Now I forage in different ways, at church thrifts and rumble sales for zippers and buttons and that piece of fabric with the perfect feel. I like the idea of working with what I can find, and producing a product that has sort of "cycled up" from a forgotten piece of cloth pushed to the back of a shelf. Since all my pieces are created with scavenged, pre-cut cloth, the supply usually determines the product. This is where my creativity lies-in making the most.

We are two sisters who love vintage and appreciate handmade things. We have collaborated on everything from films to photographs to art and jewelry. Many of our materials are rescued from estate sales, flea markets and even our own Grandmother! It is important to us to try to use repurposed materials as much as we can but we also love the mix of old and new.