Joyful Dressing: A Four-Piece Collection to Mix and Match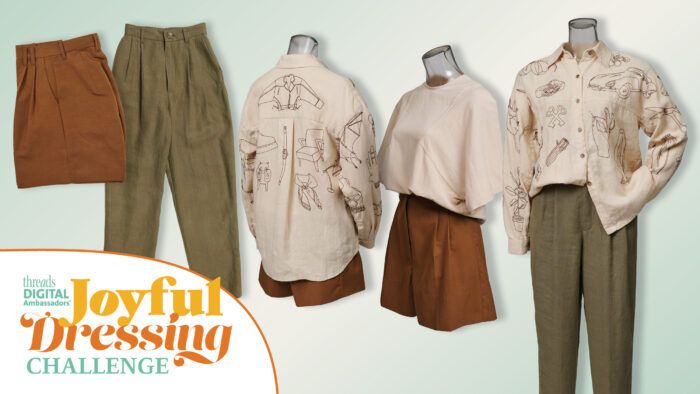 My love for soft tailoring, menswear-inspired pieces, and vintage silhouettes started long before I started making my own clothes. It was only after I started sewing, however, that I had the means to fill my wardrobe with garments that truly sparked my joy. Previously, I would live in vintage jeans, tees, and overshirts. I simply admired the stunning pleated trousers and collared shirts I loved so much from afar. Now that I have an almost fully handmade wardrobe that would make younger Nisan cry tears of joy, dressing up in the morning has never been more fun.
Daily attire in a four-piece collection
Since I find the most joy in my daily attire, I decided to make a small collection of pieces that incorporate fabrics, colors, silhouettes, patterns, techniques, and details I love. I made a four-piece collection for the Joyful Dressing Challenge consisting of a hand-embroidered shirt, a boxy summer tee with unique style lines, a pair of pleated trousers, and a pair of pleated shorts. All mix and match easily and can pair with almost everything else I own. All the patterns used are my reliables, well-used and well-loved from my stash. This collection is a perfect summary of my approach to joyful daily dressing.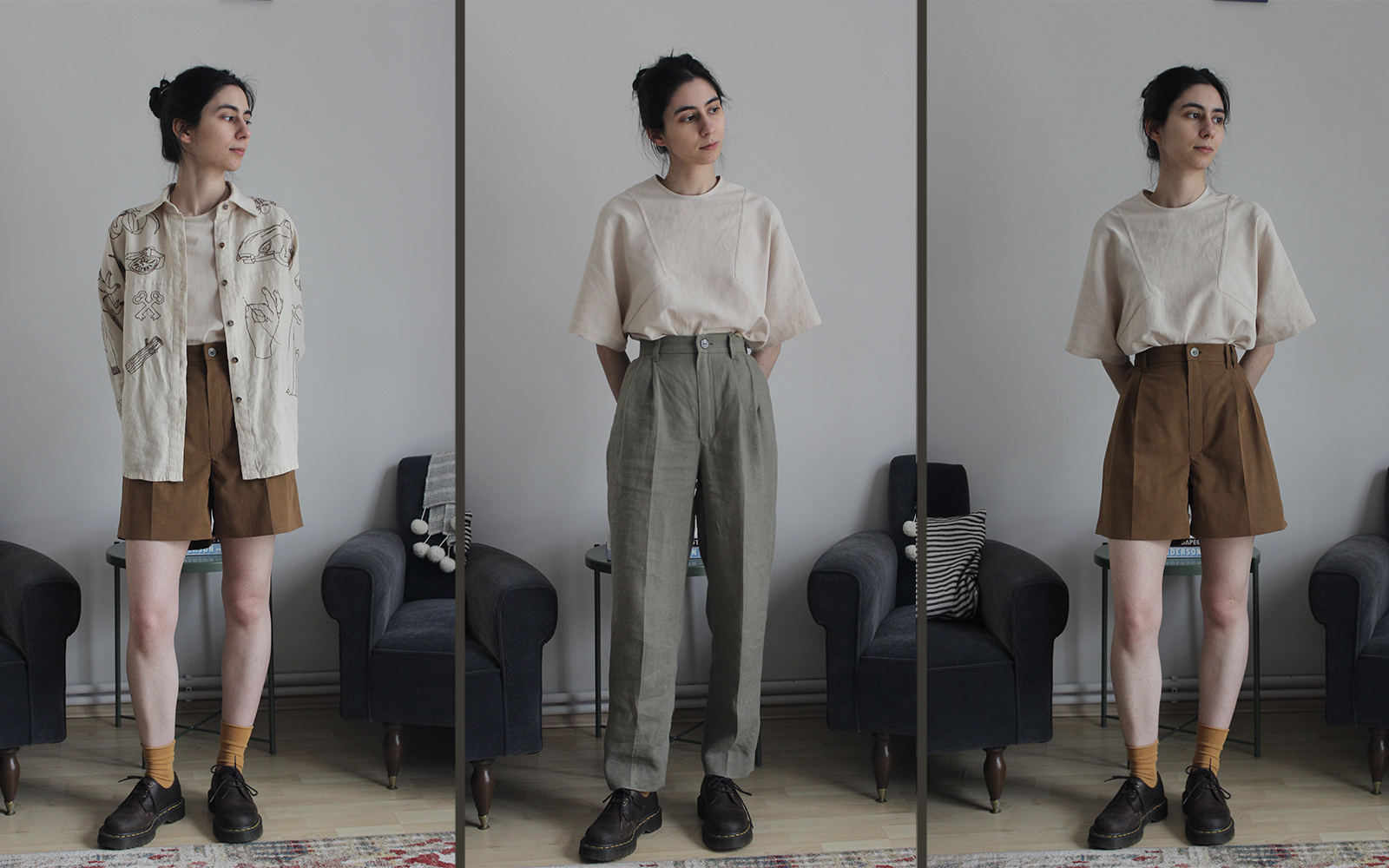 The hand-embroidered Olya Shirt
The hero piece of this collection is definitely the hand-embroidered button-front shirt, which includes everything that brings me happiness. It can be paired with the trousers or the shorts, or even worn as an overshirt with the Block Tee.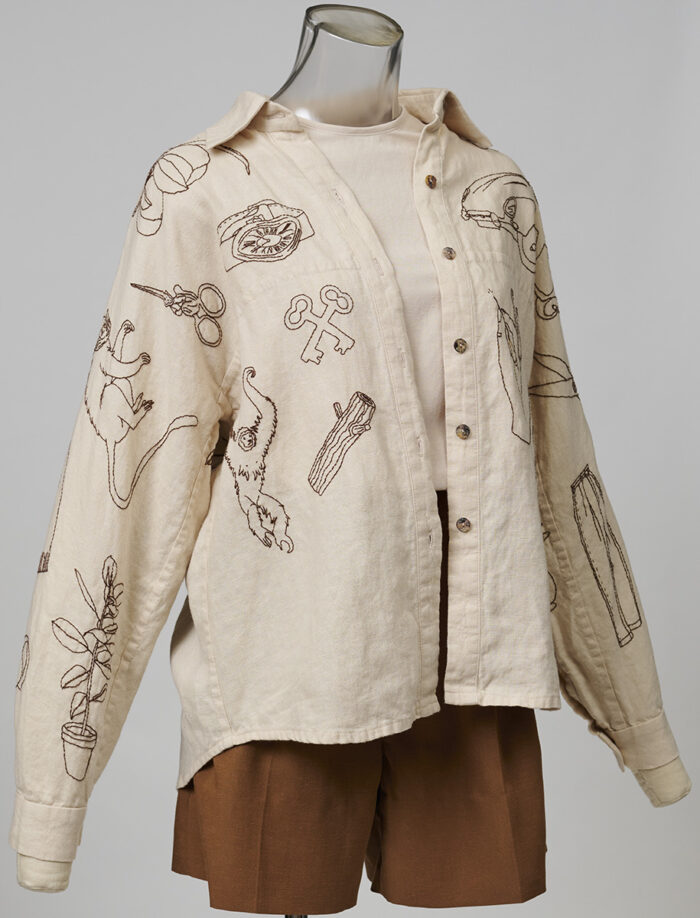 The Olya Shirt by Paper Theory has long been my favorite sewing pattern, so it was a no-brainer to build this project upon this pattern. It has a unique design that combines the sleeves with the upper yokes on the shirt front, and includes a cool right-angle seam where the back yoke meets the sleeve piece. This detail makes it challenging to finish the seams without using an overlocker (serger). For this special project, though, I wanted to go the extra mile and finish all the seams by hand. My goal was to make the shirt look as beautiful on the inside as it does on the outside.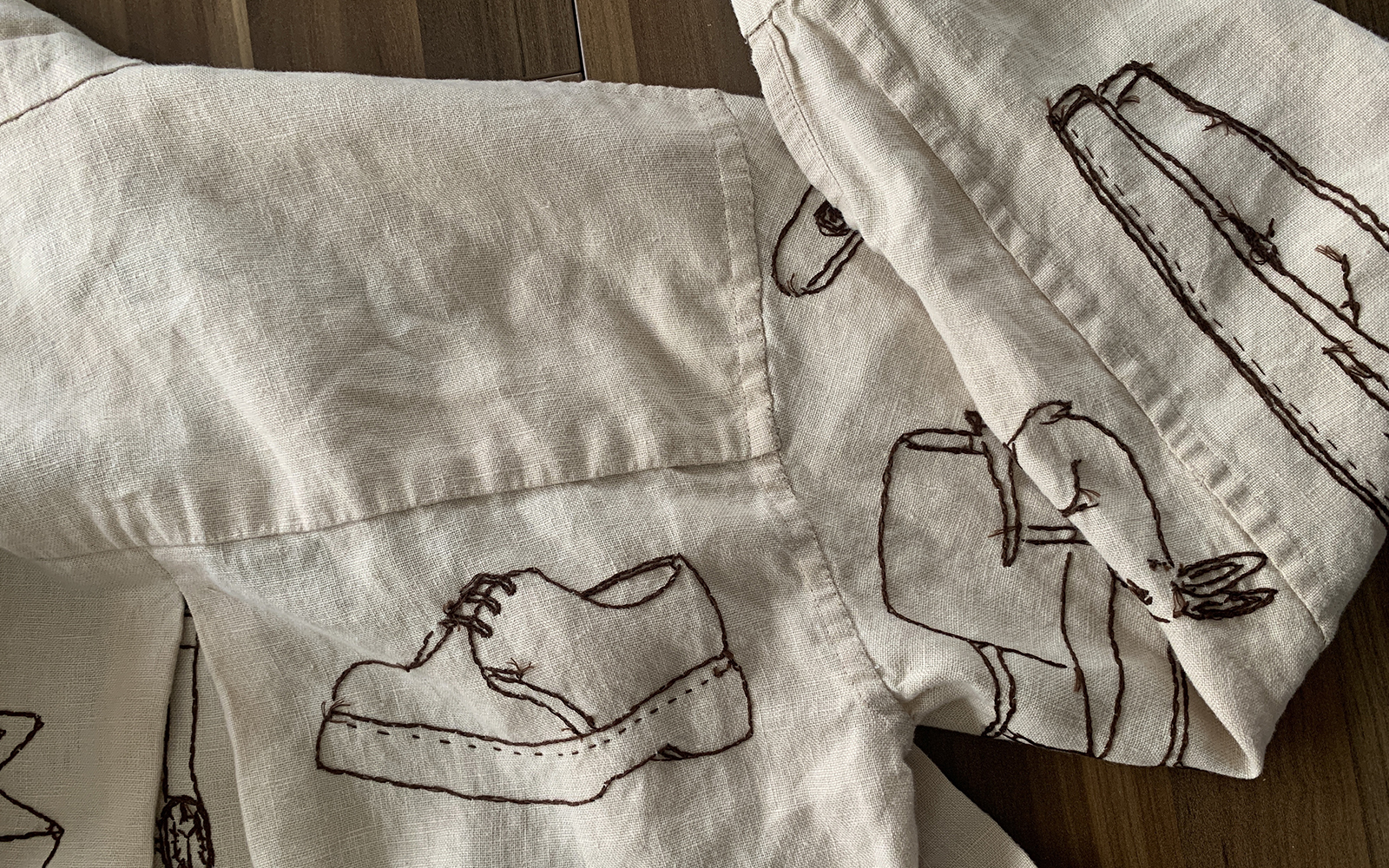 For the surface design, I wanted to include as many objects and creatures that put a smile on my face as possible. After doing a few tests with hand and machine embroidery, I decided to hand-embroider all 30 motifs. The fabric I used is a stunning beige linen in a light to medium weight. It carries the weight of the embroidered designs beautifully.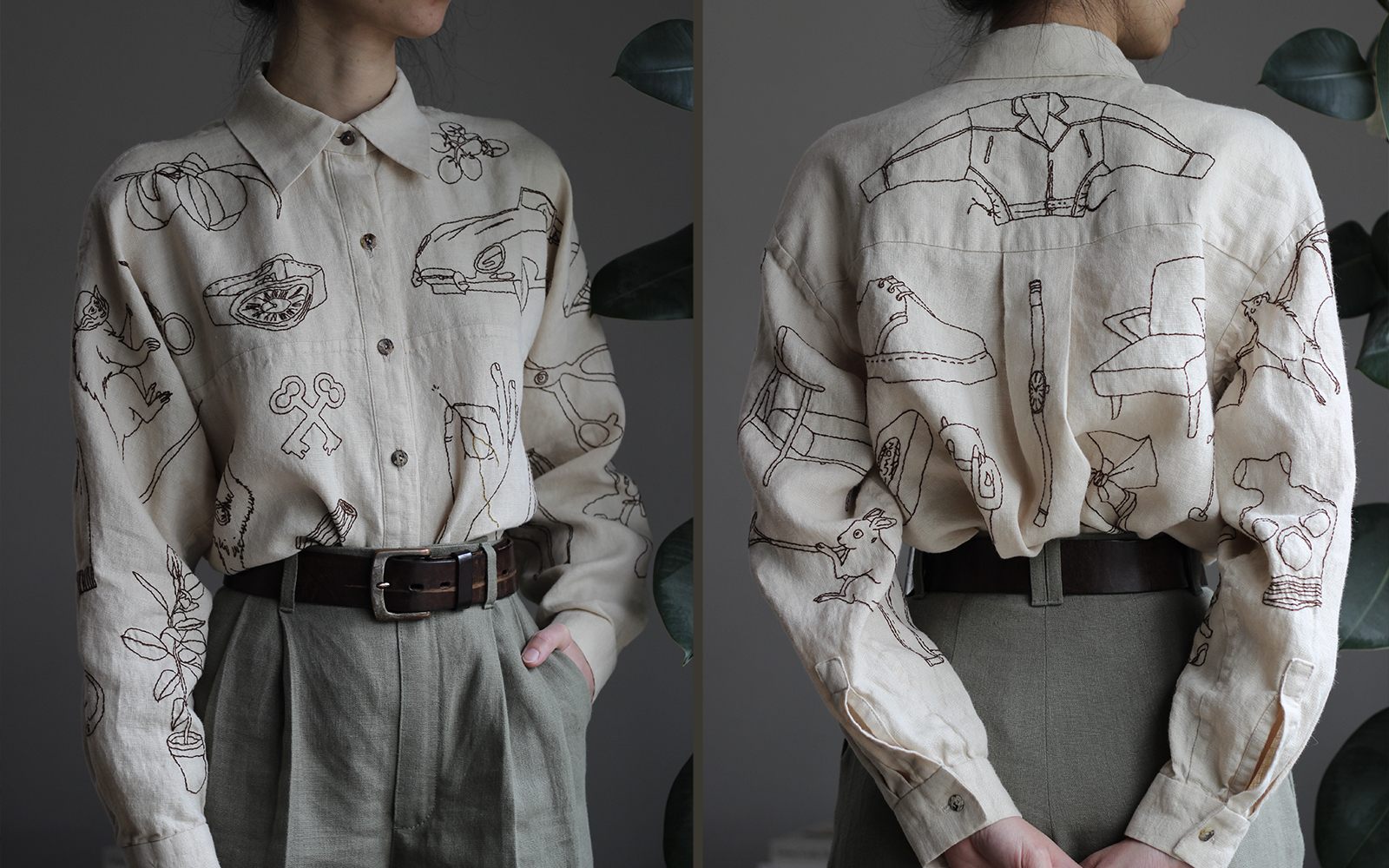 I love how this shirt is like a cheat sheet for getting to know me. It shows off my favorite car, a vintage Jaguar E-type. There are a couple watches—my vintage Seiko and a stunning 1991 Cartier Crash watch. Then there are shoes, clothes, animals, plants, sewing tools, foods, furniture pieces, and references from some of my favorite shows and music. There's a motif of Dr. Melfi's chair from the TV series The Sopranos; the little crying demon from Amnesiac, the album cover of English rock band Radiohead; and Margot Tennenbaum's altered glove from the The Royal Tennenbaums movie.
I'll go into more detail about the embroidery and the hand-finishing techniques I used for this shirt in Part 2 of my Joyful Dressing Challenge entry.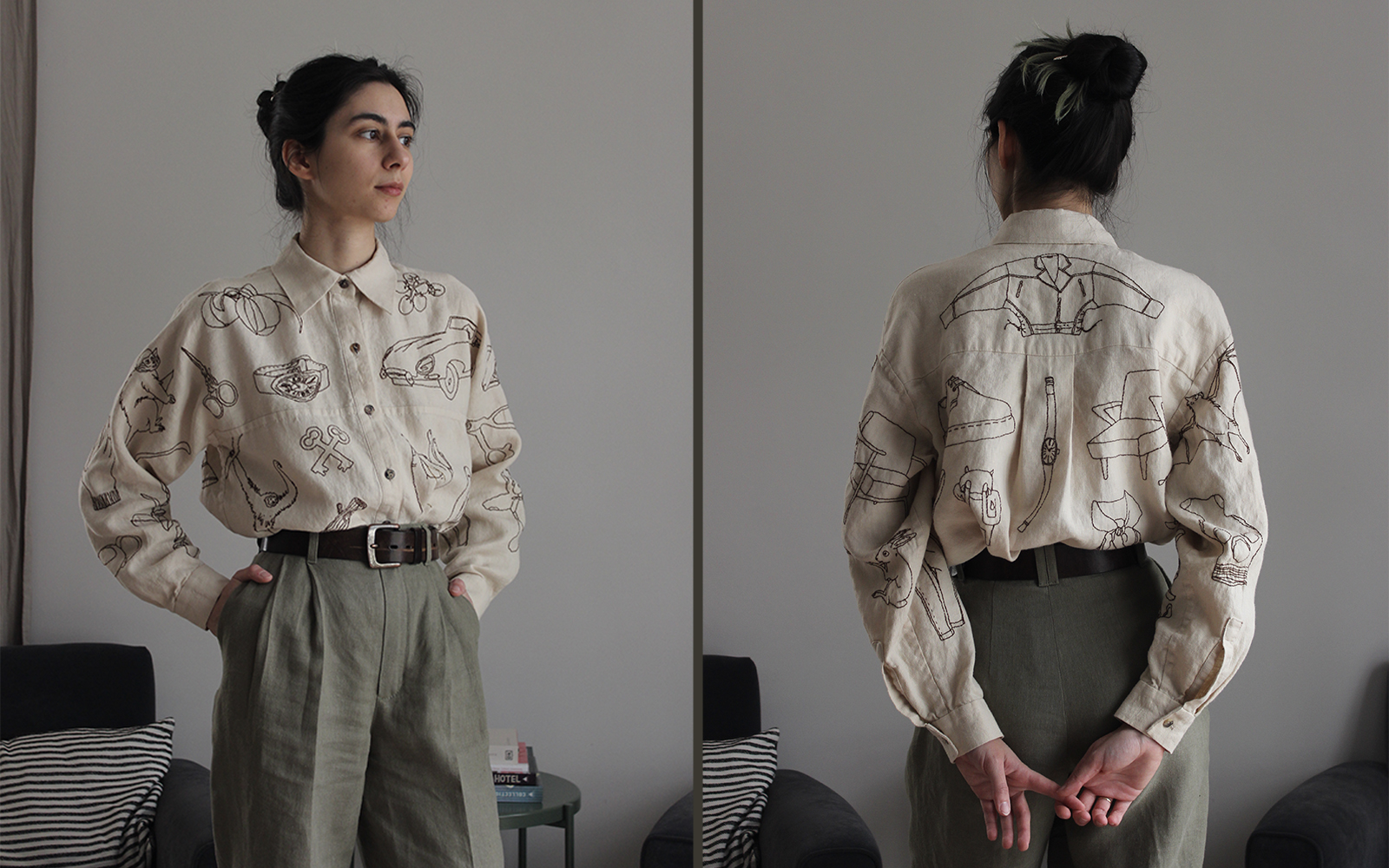 The beige Block Tee
The Block Tee from Paper Theory has been my go-to summer top since I made my first modified version back in 2021. Much like the Olya Shirt, it's a simple boxy silhouette with built-in details. The way the sleeves are inserted into the top creates four right-angle seams on the front and back. They provided the perfect opportunity for me to showcase a machine-finished version of the flat-felled seams I discuss in the second part of this series. The sides were sewn using French seams, so this is another overlocker-free project.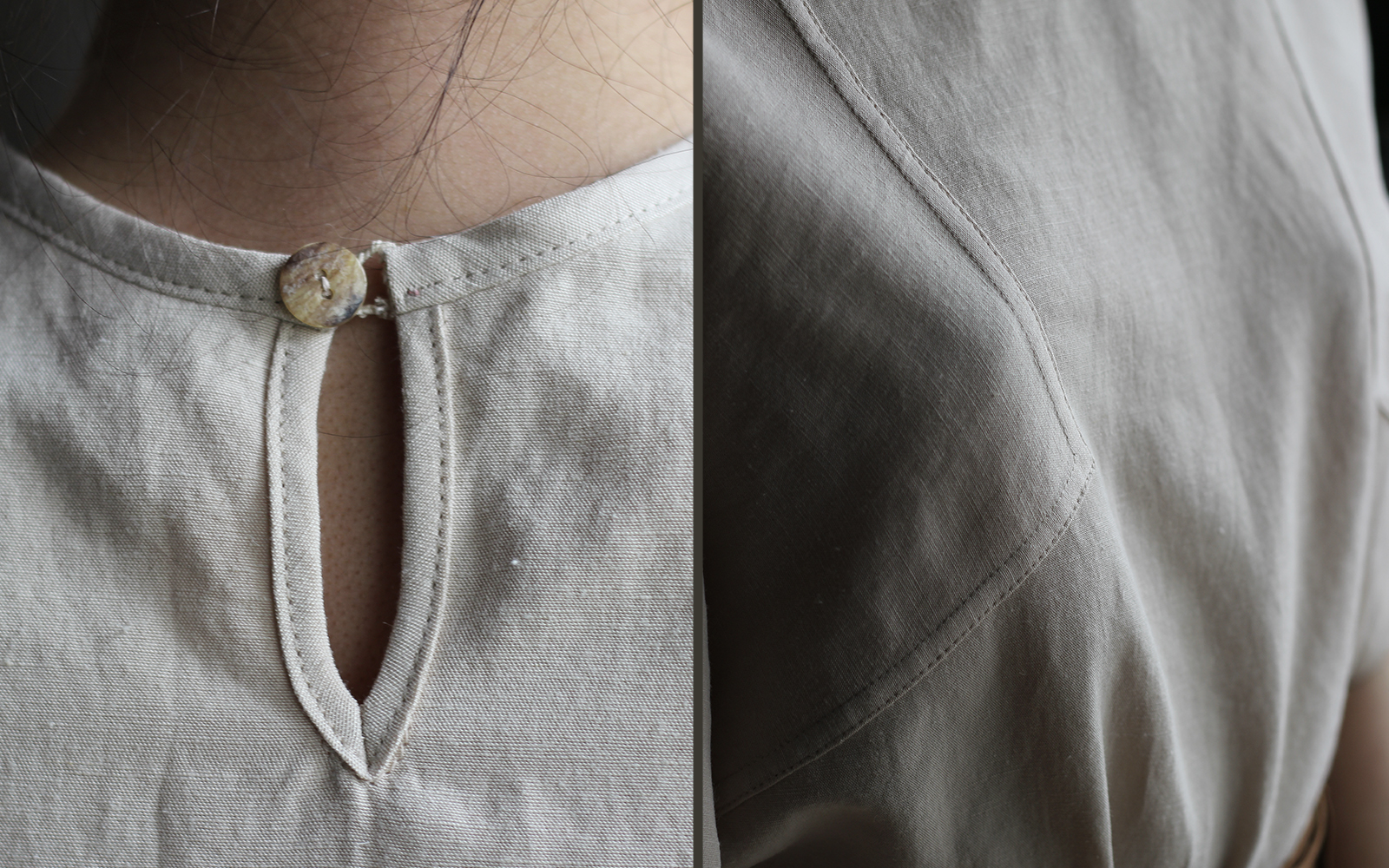 This is a slightly modified version of the original pattern with a higher neckline and a button closure at the back. I lengthened the centers front and back lines by 2.0 cm and extended the shoulder seams by 4.0 cm to achieve a higher, more fitted neckline. That meant that I could no longer slip this piece over my head, so I added a loop-and-button closure at the back neck, where I created a 7.0 cm slash opening.
The fabric is a lovely lightweight, beige cotton with minimal texture. It's an almost identical color to the linen I used for the embroidered shirt, so it slides right in to this four-piece collection.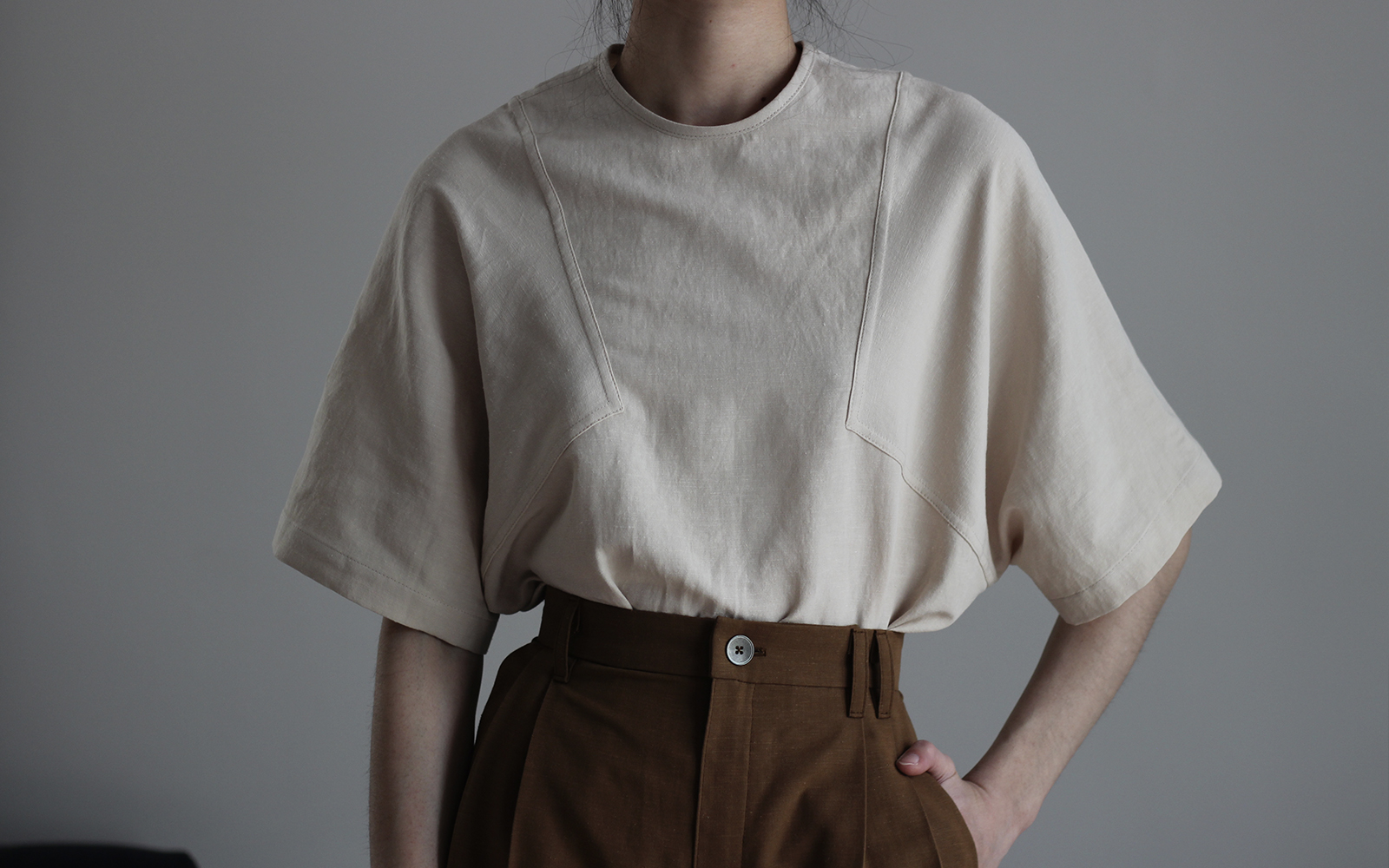 Green pleated trousers
A collection based around joyful dressing wouldn't be complete without my favorite things to make and to wear—a pair of high-waisted, double-pleated trousers. I used my beloved self-drafted Mylo trousers pattern, with its super-high rise, gently tapered legs, and double pleats on the front.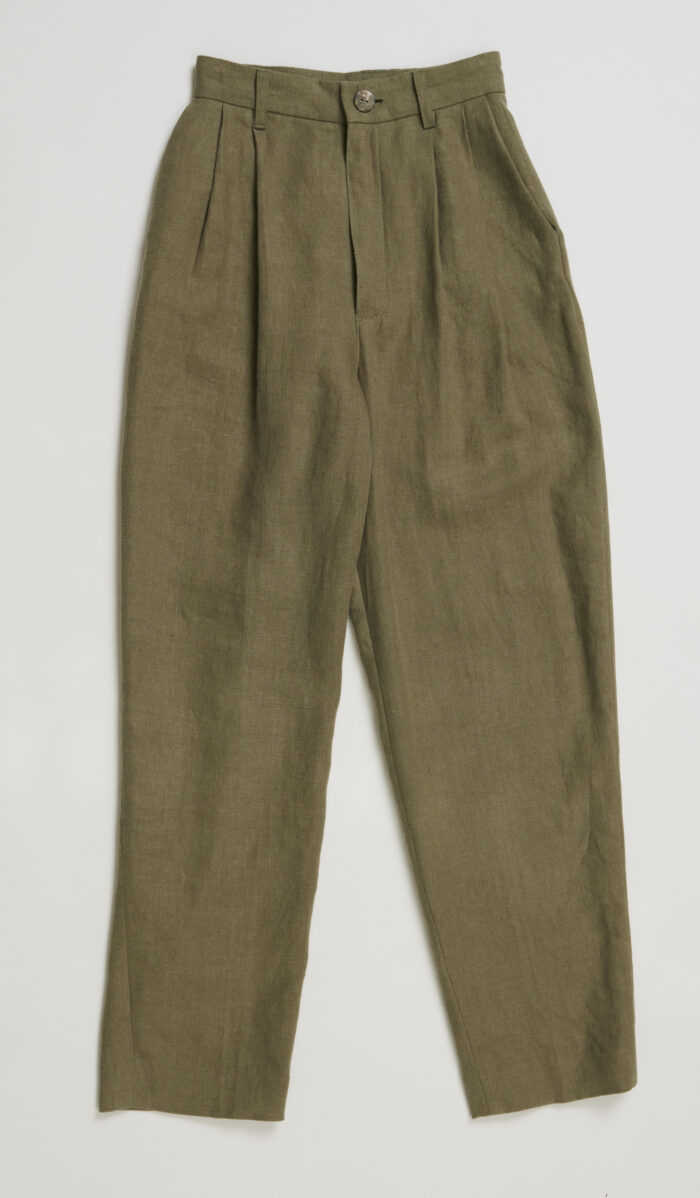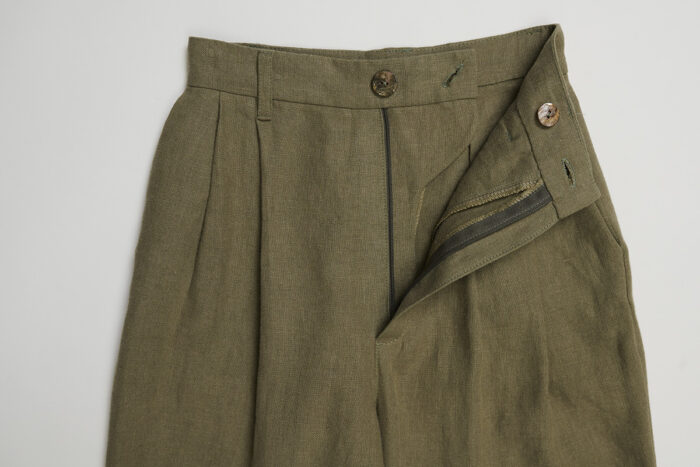 I used the same linen as I did for my Olya shirt, this time in a soft green color. Linen trousers are my favorite garment to wear during the warm weather. The pattern is tailored and streamlined, but the fabric gives the garment a relaxed, worn-in feel that captures the summer vibe.
Brown pleated shorts
Last summer was the first time I started to feel comfortable wearing shorts, and I found that the key was to make them in a longer length and with all the details I love in a pair of trousers. I previously made a pair of black linen Riva Shorts by Fabrics-Store.com and wore them to death last summer. So I thought a brown pair would be the perfect addition to this collection. I ordered what I thought was a brown linen fabric (spoiler alert, it turned out to be a mostly cotton fabric with some synthetics blended into it…) and got to work on making a slightly modified pair of Riva shorts. The results are the comfiest pair of shorts I own that still look tailored and vintage.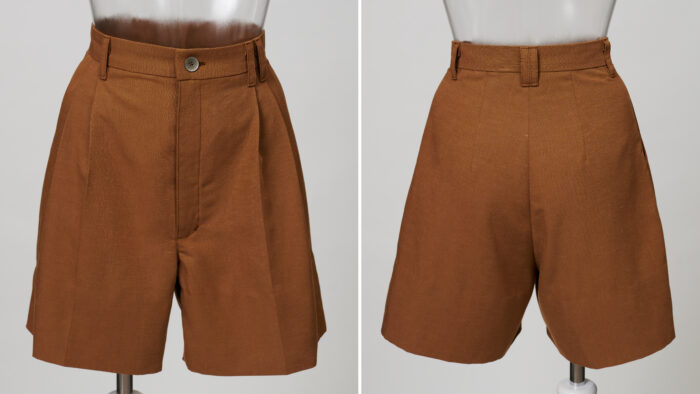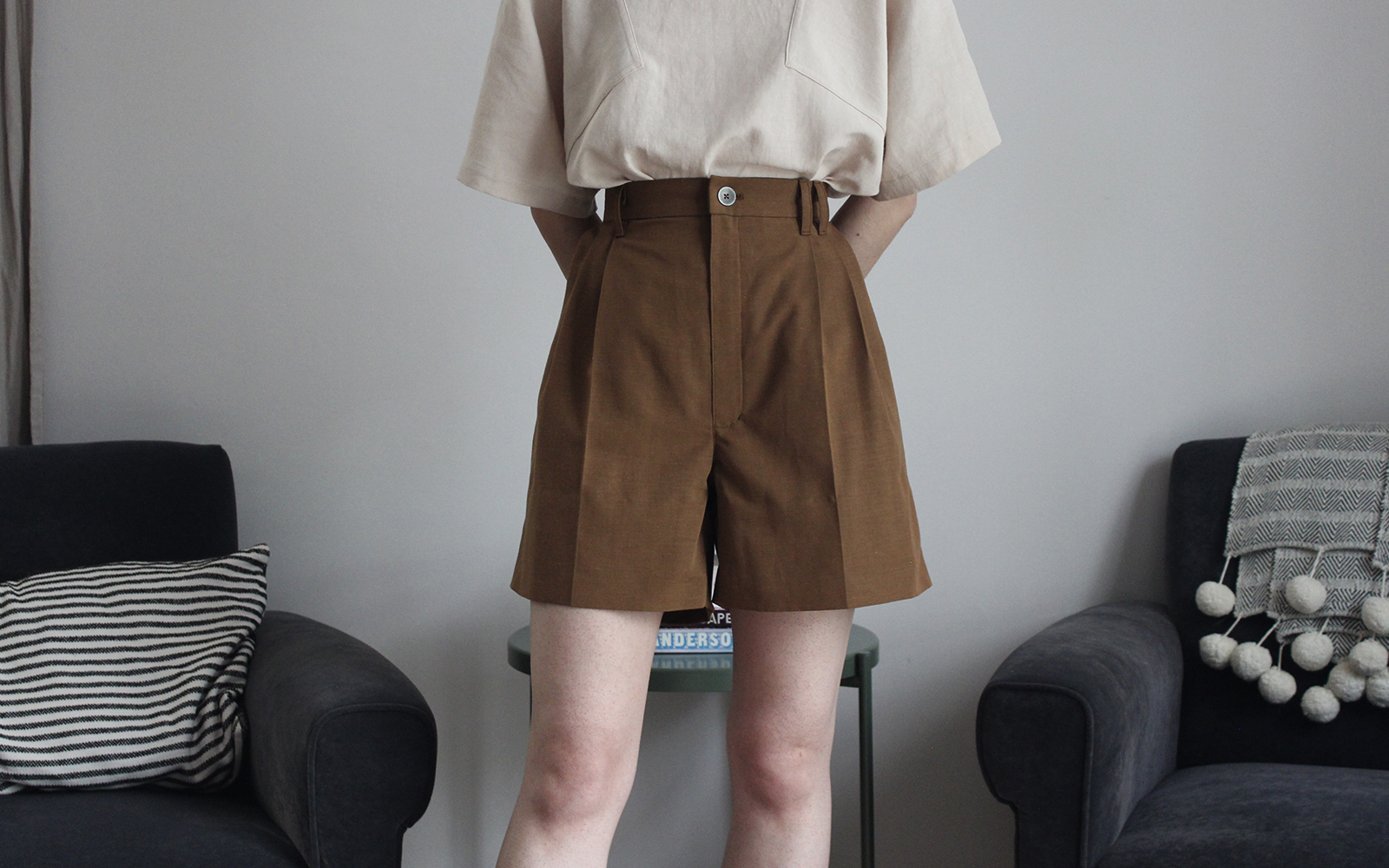 Final thoughts
Looking at the whole collection, I'm incredibly pleased with everything. It feels very "me", and that's always my biggest criteria for creating pieces that spark joy. I have a feeling I'll be living in these pieces for the remaining warmer months, and even into the autumn and winter. The embroidered Olya is one of the most time-consuming and special pieces I created in my sewing adventures, so I hope you love it as much as I do. 🙂
---
Editor's note: The Threads audience voted Nisan's collection their favorite entry in the 2023 Threads Digital Ambassadors' Joyful Dressing Challenge. Find out more about her hand-finishing and hand-embroidering techniques for the statement shirt from her collection. She details those techniques in her second installment. You can also see what her three challengers created. 
---
Photos: Nisan Aktürk, except where noted.