Book Giveaway: "The Essential A-Line"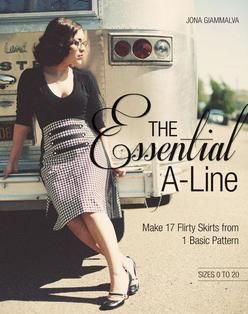 WINNER ANNOUNCEMENT:

Drum roll, please…. the winner is LOVI! I'll be reaching out to our winner via email. Thank you to everyone who entered – and don't be sad if you didn't win this time – I'll announce another great giveaway on Wednesday, April 3. 
17 DIFFERENT SKIRTS!
Have you ever wanted a quick way to create a beautiful skirt? Jona Giammalva has one simple, classic pattern to inspire your creativity in her new book, The Essential A-Line (Stash Books, 2013).
From the pattern included in the book, you have the option to create 17 different A-line skirts. The size range is 0 to 20. With its simple construction and no-waistband silhouette, these A-line skirts are a perfect project for beginners or anyone looking to make something quick and adorable in just an an afternoon.
COMMENT FOR A CHANCE TO WIN!
Interested in adding this book to your collection? If so, what type of A-line skirt would you like to make? Submit a comment below, and you will be entered in our randown drawing for the book!
The entry deadline is midnight EST, Sunday, March 31. The winner will be announced on Monday, April 1, and I'll contact the winner via email.
Good luck, everyone!