Sewing Fake Fur: Tools and Materials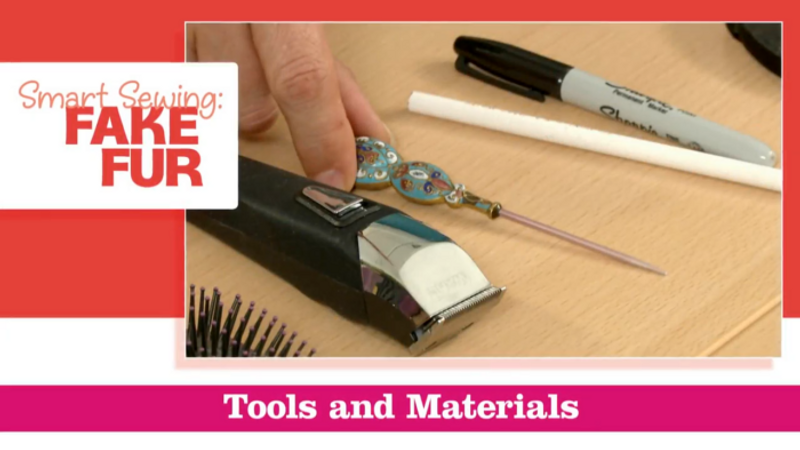 Video: Threads magazine
As part of his Smart Sewing: Fake Fur series, Contributing Editor Kenneth D. King provides an overview of the tools and materials needed to sew synthetic fur.
These items are generally available at art and craft supply stores, fabric stores, and even beauty supply stores.
Hair picks: Use these to push the fur's pile between the fabric layers in preparation for sewing seams.
Brushes: A wig brush or dog brush helps you brush the pile out of the stitched seams, and fluff it to conceal the seamlines in the finished garment.
Hair clipper: For some seam types, you'll need to remove as much pile as possible from the seam allowances before sewing. Use a hair clipper to trim the fur.
Awl or stiletto: A sharp tool is helpful for steering the bulky fabric under the presser foot as you sew.
Pencils and permanent markers: For transferring pattern marks to the fake fur's wrong side.
Cold tape: This fabric tape with adhesive is placed along seamlines to prevent stretching. If you don't have access to cold tape, you can use cotton twill tape and a thin bead of ordinary white glue for the same purpose.
Cutting tools: When cutting fake fur, cut only through the backing, and avoid cutting the pile. This can be done with a craft (X-Acto) knife, a single-edge razor blade, or a dedicated fur knife.
Portable vacuum cleaner: Even if you avoid cutting the pile, there is always plenty of it floating around when you work with fake fur. You'll want to get in the habit of vacuuming each edge as soon as you cut it.